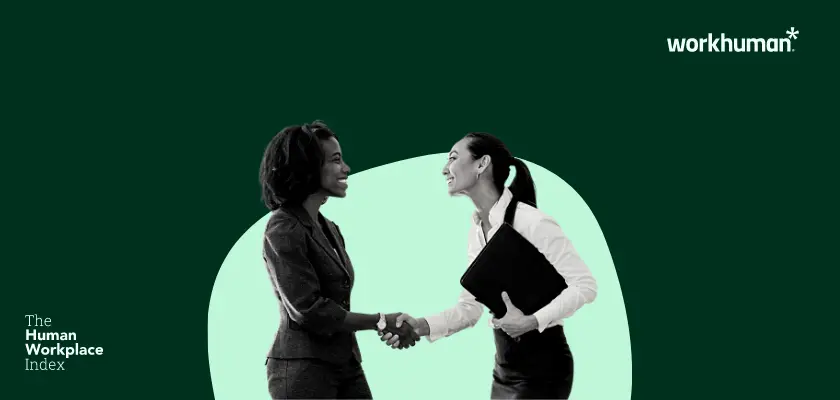 This May's graduating class of college students are used to the world turning on a dime. Many of them began their higher education online during the height of the pandemic, and even more have watched the redefinition of life-work balance online. All eyes are on the newest generation of workers and how they're fitting into the current landscape of work.
Leaders are worried that Gen Z employees, including the class of 2023, want different things from work than their predecessors. Younger workers tend to crave recognition, while boomer and Gen X feel more ambivalent about it—however, across the board, employees are 4x as likely to be engaged if they get the right amount of recognition for their work.
While many are still trying to demystify the new normal of Gen Z in the workplace (you can watch this space for our upcoming Spotlight conversation on that very topic!), it's important to remember that, as with all their humans, leaders should stay focused on creating a culture that fosters trust.
When employees trust their peers, results are better
Any employee will tell you that work is better with a friend at the next desk; but how does trust between peers actually impact how employees work?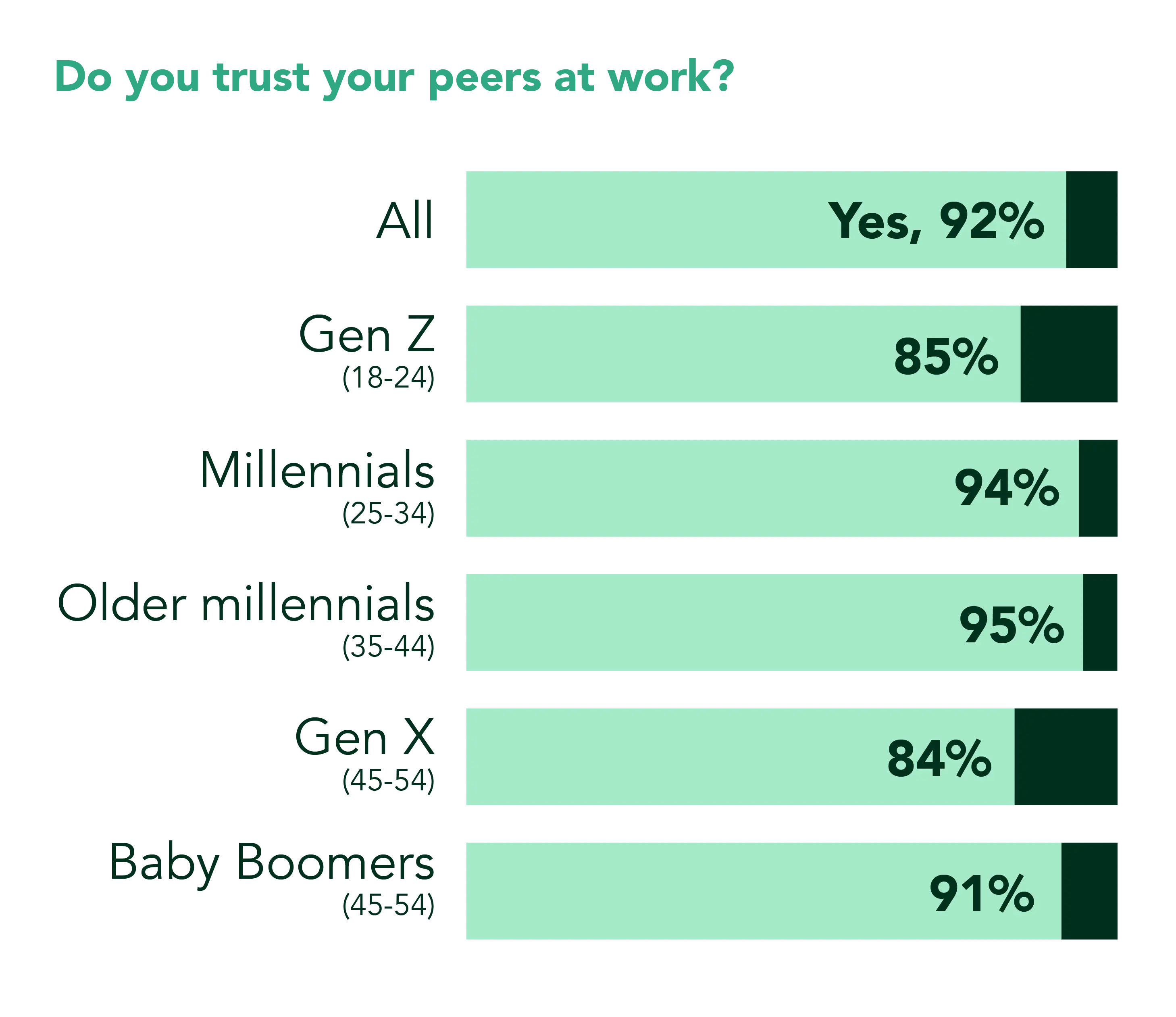 We found that out of all employees, Gen Z workers enjoy working with their peers the most. When asked how trust in their peers impacts their work experience, Gen Z employees (aged 18-24) report they feel more attuned to company culture, about 34% said they enjoy work social events more and 34% also state they appreciate having somebody to confide in.
Peer relationships are still important to other generations of workers too, however. They see their peers in a different light, and tend to look to their peers for professional support and see trust as the bedrock of collaboration. Older millennials and Gen X employees (45-54) both report they are "more comfortable working in teams" (38.6% versus 46.67%, respectively) while Baby Boomers (54+) "feel more comfortable asking for help" (44.83%) when they trust their peers.
With the majority of employees needing to trust their peers to effectively collaborate, this points to a great opportunity for managers to ensure they are cheerleaders for their teams. When it comes to recognizing their team members, no stone should go unturned!
Employees can start building trust from day one
While new employees may be excited to begin a new job, that does not mean they will blindly trust their employer. Earning trust is a continuous process that starts before an employee walks in the door. Only 12.5% of employees stated they trusted their current organization on or before their first day at work. Meanwhile, over a quarter stated that it took "a few months" to trust their employer (25.65%).
This suggests that in the first few months of an employee's tenure, leaders must ensure that they build trust with new hires to prevent fast turnover.
Luckily, there are actions organizations can take in those first few months to help foster trust among employees. Respondents said that encouraging employees to recognize each other's accomplishments would drive the biggest improvement in trust (27%), followed by holding more workplace social events (11%) and hosting more regular team meetings and group sessions to allow employees to build connections (10%).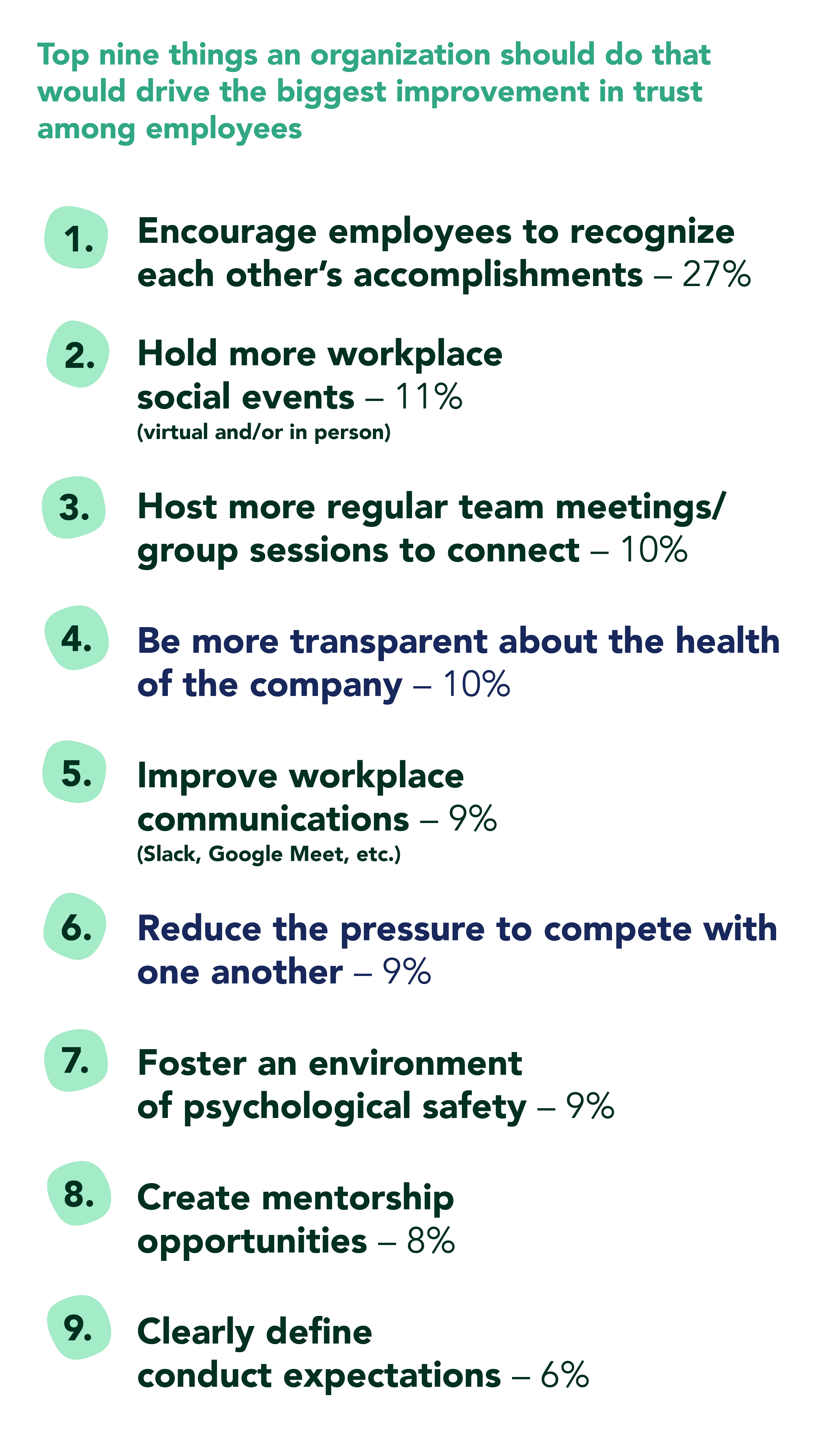 There is a positive relationship between trust and recognition at work
A great first step towards building trust is to consistently demonstrate employee appreciation. Of the 95.5% of respondents who said they trust their companies, 56.7% stated their organizations built that trust by recognizing them for their accomplishments.
This isn't surprising since employees want to be valued and respected, not just by their employers, but also by their peers. When asked why they trust their peers, the majority of respondents said "I feel they respect me" (44.73%) and because "they recognize me and each other for their accomplishments" (42.9%).
Regardless of whether an employee has been in the workforce for twenty-five years or just got the offer letter for their first-ever job, trust is a non-negotiable part of a successful company culture. Trust built between peers has the power to bring work to the next level, and trust between leaders and their employees can prevent turnover. Recognition is a powerful trust-building tool that gives Gen Z the appreciation they want, while simultaneously creating a stronger culture for employees of all ages.