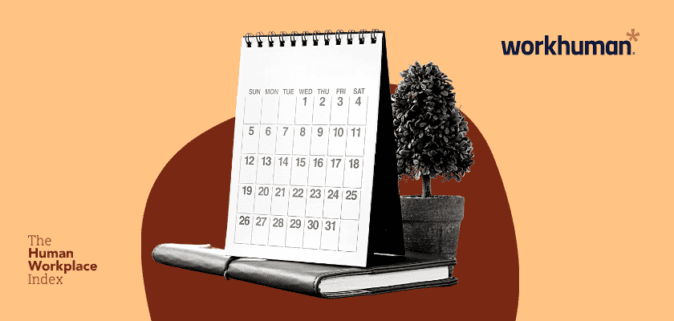 2021 was marked as the year the tides turned, shifting the balance of power long held by companies into the hands of employees. Turnover rates skyrocketed, and with it, open positions popped up like weeds – by the time you pull them all they've regrown behind you.
This desperate need for talent driven by the Great Resignation gave employees the unique opportunity to push for their wants, such as more flexibility and better benefits. If companies weren't willing to meet these requests, candidates could move on to the next of many opportunities.
Is that still the case? With talks of a looming recession, rising inflation leading to rising interest rates, and other economic uncertainties, it looks like hiring is slowing down. What does that mean for employees, and how do they feel about it? This month's Human Workplace Index results tell us just that. Keep reading for more invaluable insights.
1. Are employees still in the driver's seat?
In February 2022, 4.4 million people quit their jobs – just shy of the record breaking 4.5 million people that quit in November 2021.
The U.S. Bureau of Labor Statistics' June data showed another 4.4 million workers quit their jobs in the previous month. Yet, 44% of workers surveyed in this month's HWI survey say they've noticed their company has slowed down hiring for open roles.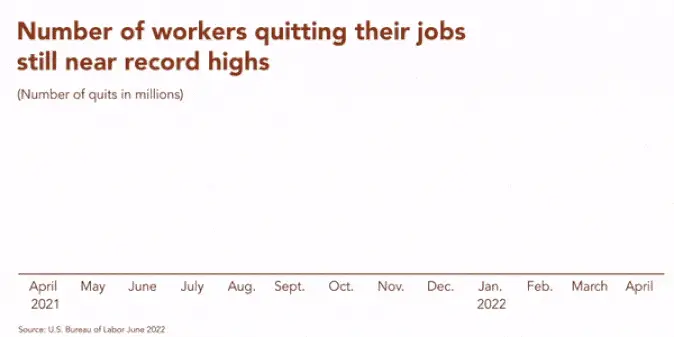 This may raise concern for some employees, especially considering the implications for those who haven't left their positions. According to this month's survey, 38% of workers have taken on more work because of worker shortages.
Considering 22% of workers report having co-workers laid off (likely adding on more work), it's not surprising 26% say they have considered leaving their current company and 20% have felt less secure in their position.
2. What does "secure" look like?
Despite workers overall feeling slightly less secure about work, only 10% of workers surveyed feel somewhat to extremely insecure about the state of their employment. When asked why they felt this way, 40% say they aren't recognized for their work, 35% cite recent layoffs, and 35% report fears of a recession.
On the other hand, 73% of workers feel secure to very secure in their current positions. Among the reasons why include strong relationships with managers, being recognized, having a unique skill set, and working for a financially stable company.
Workers may feel relatively secure with their jobs, but are they feeling supported? Based on this month's responses, that's up for debate. In the past month, 53% of workers have experienced stress; 35% have experienced burnout; and 24% have experienced isolation.
If organizations are looking to slow hiring, retaining the employees they have becomes exponentially more important. Rather than spending money on recruiting new employees, business leaders have an opportunity to invest in the ones who have stuck around.
3. So, what can organizations do?
With a looming recession on the horizon, it's no wonder employees want to feel secure and supported by their employer. And while not every employee has the same needs, there are a few general things business leaders can do to create a supportive work experience for their employees:
Recognize their work: 49% of workers say they'll feel supported if their company recognizes their contributions
Be transparent: 43% of employees will feel supported if leaders are transparent about the company's health
Focus on growth: 40% will feel supported if their career path within the organization is clearly defined
Communicate regularly: 30% will feel supported with frequent check-ins
And while these are general suggestions, employers benefit from getting even more granular. And the best way to do that? Ask employees. Understanding what is important to workers gives business leaders the chance to tailor their strategies to best fit their employees' needs. By communicating regularly, employers will also be the first to know when something in the strategy needs to shift or change to adapt.
Learn more about Moodtracker® – Workhuman's free, advanced employee pulse survey tool in this guide to building employee surveys.
4. The future of work is right now – so what's next?
Since 2020 – and a global pandemic – turned the world upside down, we have been talking about the future of work. And now, two years later and more people working on a hybrid model than ever before, it seems as though the future of work is upon us. So, what's next?
While we can't know for sure, there are a few theories floating around, including the four-day work week. And while there are many forms and considerations for a four-day work week we won't get into here, it certainly would be a shift in the way we work.
But actually, this shift has already started. Employees got a taste for flexibility during the pandemic and if anything, the demand for it is only going to go up. Now is the time to focus on the output of employees, rather than the number of hours it took them to do it.
Despite the whispers around a shorter work week, our survey found less than half of respondents say their company is looking into it. If companies were to offer four-day work week, workers say they would be excited for a break and to spend more time with family. On the other hand, there are worries of longer hours and less income.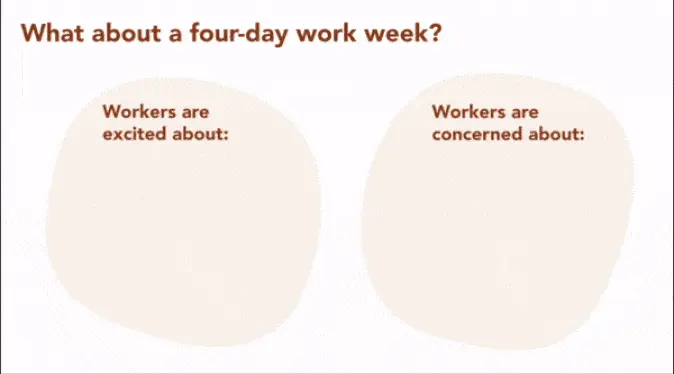 If there is one thing we have learned as we come up on the one-year anniversary of the Human Workplace Index, it's that employees who feel appreciated and supported are more likely to thrive at work. And after one unpredictable year of compiling and analyzing real-time survey data, we are going to be breaking down the main trends, insights, and desires of thousands of employees from across the country to fuel your future of work strategy.