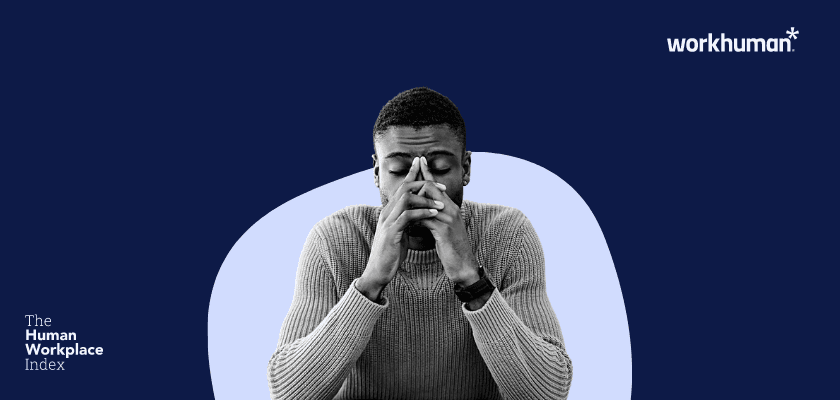 For many workers, stress has become ubiquitous. Many expect that caring about their work, colleagues, and organization means they have to accept chronic stress as part of their job description. It's so commonplace in today's world there's an entire month dedicated to it; April is National Stress Awareness Month.
Stress can have troubling ramifications on an individual's life; new studies show it can lead to numerous health issues like a decline in cognitive function and impaired memory and focus. It can even make mundane, daily responsibilities far more difficult.
Despite these negative consequences, though, today's world has normalized stress. In fact, in some circles stress is encouraged as it is in the pervasive "hustle culture." This veneration for stress, perpetuates a harmful idea that feeling stressed is synonymous with working hard. But this simply isn't true and leaders who don't put that myth to bed put both their employees and their company at risk.
According to this month's Human Workplace Index survey, close to one third of workers (32%) report their stress level at work has increased in the last month, while more than half (52%) of workers say their stress level has stayed the same. With so few workers seeing a reduction in stress, it's up to leaders to cultivate an environment where 1. keeping stress in check is as much a priority as meeting a deadline and 2. teams throughout the organization feel encouraged to lean on one another for support.
The weight of the world: how external factors impact employee stress
We live in a tumultuous time in which compounding crises around the world are impacting everything from our mental health to our bank accounts. When you add these stressors to the typical pressures of work and life, even the smallest inconveniences can feel catastrophic.
As inflation persists and companies brace for a potential recession, finance-related stressors are having an especially strong impact on workers. When we asked how ongoing economic uncertainty impacted their stress level, 59.4% of workers reported being "slightly more" to "much more" stressed as a result. While many HR leaders are already attuned to these trends – if not also experiencing them themselves – it's important to monitor how they're affecting employees individually, and then work with managers to provide extra support as needed.
There are internal factors impacting employees' stress levels as well. Nearly 18% of stressed-out workers reported a heavier workload as the primary cause of their stress, followed by 14.8% who stated it was due to difficulty balancing work and their personal lives.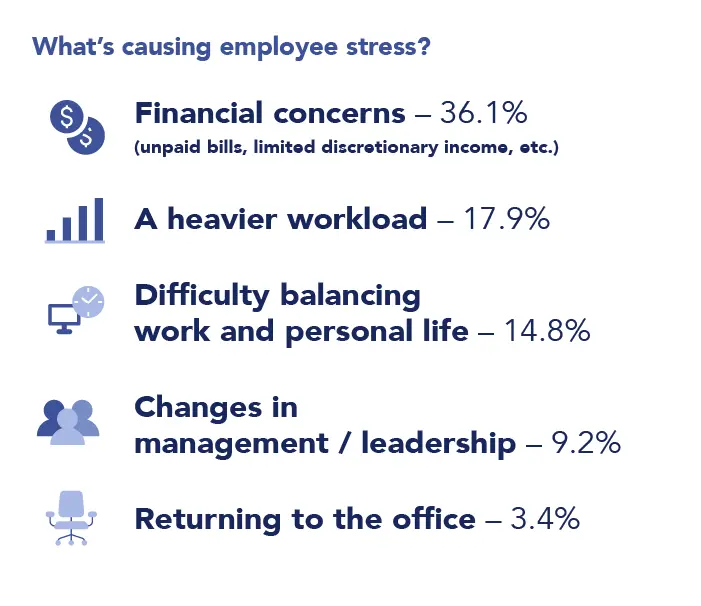 These internal factors are where HR leaders and managers have the most power to help address their employees' spiking stress levels and prevent burnout. Setting limits on workloads, watching for employees' emotional cues, and giving meaningful recognition are all ways to lighten the burden and make employees feel more connected.
In fact, as we found in our 2022 joint report with Gallup, workers were three times as likely to strongly agree their organization cares about their wellbeing when they were recognized for both work milestones and life events. When employees know their employers value them, they'll have a stronger connection to their organization, and that connection alone can play a significant role in easing the burden of burnout.
Building Support and Being Proactive
While companies work to refine their stress reduction strategies, many employees are already taking their wellbeing into their own hands. Of those employees who said they were stressed at work, 26.3% stated that they had found community in talking to other co-workers about their stress.
Leaders should not just write off this sort of discussion as complaining. When employees are attuned to each other's stress, they can better identify when a teammate is struggling and jump in to support. More than that, simply knowing someone is facing the same obstacle can be a welcome relief. No one wants to go at it alone.
Additionally, the latest Human Workplace Index found that over 40% of people who are stressed at work have engaged in some sort of stress relief activity, such as yoga or meditation, to mitigate the impact of stress. It's encouraging to see so many people have an outlet, but leaders need to make time and space for them to actually pursue it. Allowing workers the flexibility to recharge during the day can boost productivity and keep them more engaged when it matters most.
For other workers, however, there's less reprieve from the pressure. Of those workers who reported being stressed, nearly 30% reported that their stress has caused them to work more – a habit that can quickly push workers past the brink of burnout. Comparatively, only 11.2% of these respondents stated they'd been working less as a result of their stress.
Managers can be a pillar of support for workers dealing with stress. Not only can they balance workloads and check in on an employee's wellbeing, but they can bring employees' concerns to leadership if their stress points to systemic problems within the organization. Fortunately, over half (54%) of workers stated they feel comfortable speaking to their managers about stress – but over a third (34.7%) said they did not.
What's holding employees back? Of those workers who don't feel comfortable speaking to their manager about stress, 30.3% said it was because they didn't want their managers to view them differently and 18.2% didn't trust it would be confidential.
These results point not only to a need for stronger 1:1 relationships between managers and employees, but also a need for large-scale cultural change as 16.4% of these respondents didn't feel comfortable discussing stress with a manager due to stigmas around stress and mental health and 15% did not want to seem lazy.
With these troubling statistics in mind, leaders must conduct regular pulse checks to ensure employees are able to speak candidly about their mental wellness without fear of repercussion. After all, psychological safety is an important part of wellness in the workplace, and there is no psychological safety without the freedom to express criticism or concern.
Companies as Support Systems
In turbulent times, employees need real support from their organizations to reduce stress and improve their quality of life. The role of the employer is steadily extending beyond the confines of work responsibilities to ensuring its employees are not only successful but living full, healthy lives.
Over two-thirds (68.7%) of employees feel that their job encourages them to live a healthy life overall. But what does this look like in the workplace? If the benefits boom of the Great Resignation is anything to go by, it's no surprise that work-life balance was top of mind for workers when it came to their health. Of that 68.7% who said their companies encouraged a healthy life, 64% stated a good work-life balance was one of the main ways. These workers also stated their companies encouraged them to live a healthy life by offering good health benefits (53.6%), a positive work environment (53.6%), and the time and space to take care of their body/mind during the workday (42.9%).
Meanwhile, looking at the 18% of employees who felt a healthy life wasn't encouraged at their jobs, nearly half (48.6%) reported they experienced poor work-life balance.
Fortunately, as stress levels rise, many companies are doing a great job of taking initiative, as 60.6% of employees stated their companies offer personal development courses or mental health support to help with stress management. Among these workers receiving stress support, the most popular benefits included: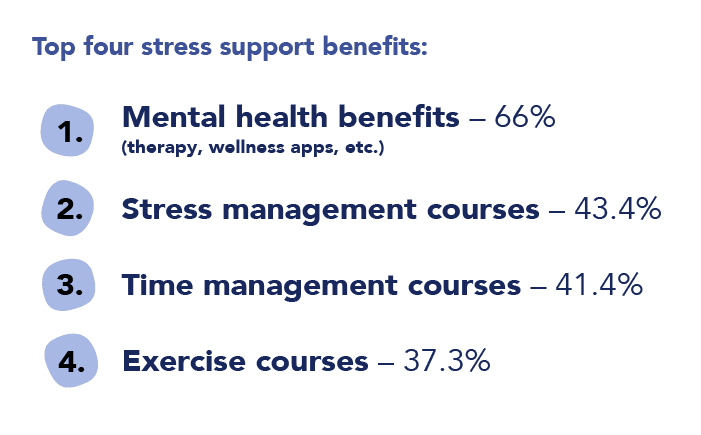 Nearly half (47.7%) of workers believe the offer of stress management courses and benefits would impact their decision to accept a job, an indication they're becoming a more important part of workplace culture. However, having access to special courses does not remedy the deeper issue of burnout.
Stress reduction is a culture choice. Leaders must keep a pulse on their employees' stress levels and make sure there are adequate resources to address them. That way, they'll be happier, more engaged, and more inclined to stay at the company and produce quality results.