In the midst of a dual epidemic of loneliness and burnout, fostering belonging in the workplace has never been more important. Ensuring employees feel valued and included must be a top priority for leaders, but employees are also taking charge, rallying the support and solidarity of their coworkers through the formation of employee resource groups (ERGs).  
ERGs are employee-led organizations that strive to give employees of all backgrounds, identities and affinities a place to belong and can help make work a more inclusive place. The efforts of ERGs contribute to a company culture grounded in principles of psychological safety, accessibility and recognition, and these positive cultural shifts can lower burnout, promote productivity and advance key business goals. Input from ERGs has the potential to improve everything from product design to external communications, and more.  
While ERGs can make a profound positive impact in the workplace, at many companies, it appears they've yet to take off. In this month's Human Workplace Index, only 41.3% of employees reported having ERGs at their company, and less than a quarter of employees (23.5%) reported having participated in or started an ERG throughout their careers.  
Let's dive into what's missing in the ERG equation, where leaders can help, and why it's worth the investment.  
ERGs build trust and foster psychological safety, making them a powerful retention and recruitment tool. 
A key facet of belonging at work is psychological safety: an environment where people feel safe being their authentic selves and taking interpersonal risks. Experiencing psychological safety can also predict whether someone will take or remain in a given job.  
While ERG participation may be low, employees have a positive vision for how these organizations can impact their workplace: for example, 60.8% of employees surveyed believe that they can contribute to psychological safety. This aligns with findings from our Evolution of Work report earlier this year, which revealed that employees who participate in an ERG experience higher psychological safety and are more engaged at work. These groups can also help foster trust in both peers and leadership. 
What's more, 45.8% of employees stated that the presence of ERGs at a company would make them more likely to accept a job at a company. When asked why, the results revealed a stunning reflection of company values: Nearly half (48.9%) of these respondents stated they would be more likely to accept a job because ERGs "tell me the company values diversity and inclusion". An additional 18.1% of these workers stated "it tells me my future coworkers care about social issues," and 14.2% stated, "I feel like I would have a voice at the company".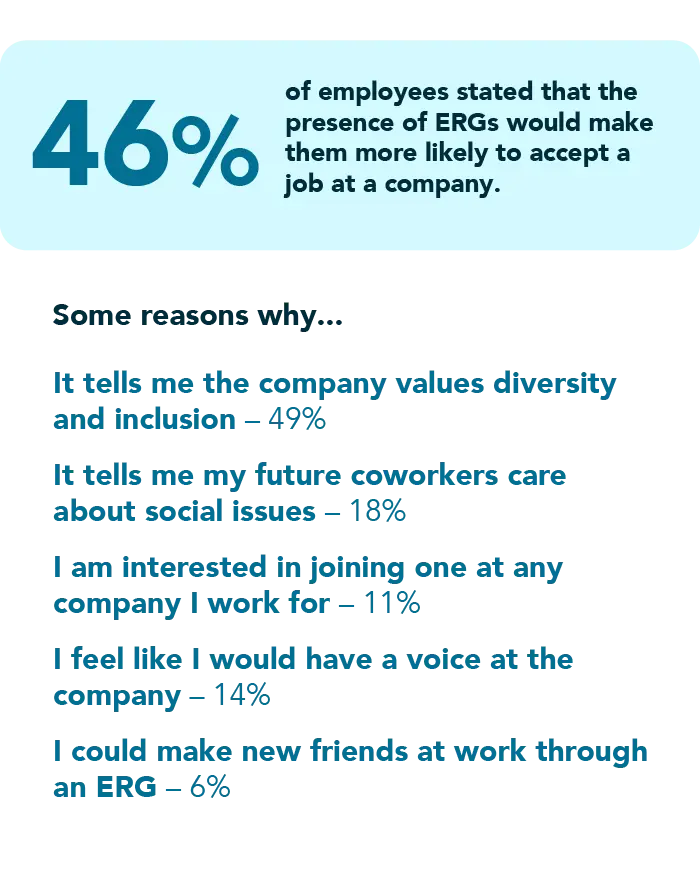 Knowing this, leaders should see ERGs as a way to recruit talent, particularly as employees who join ERGs are more likely to be highly engaged, know organizational values and recommend their organization to a friend.  
Most importantly, employees must receive their due recognition for their work in an ERG. Employees who participate in ERGs report higher levels of stress, but effectively rewarding them for their efforts and impact can make a world of difference: our research with Gallup shows that recognition has a positive relationship with wellbeing, as nearly three-fourths (72%) of employees who receive "great" recognition report they're thriving overall. 
ERGs are for everyone – full stop.  
Our survey uncovers a number of reasons for low ERG adoption. The number-one thing employees said was keeping them from joining an ERG, outside of their company not having ERGs, was not having enough time to contribute.  
Companies with ERGs (or those who plan on implementing them) should make sure those groups don't have to meet outside of work, especially since those individuals who may benefit the most from ERG initiatives – such as working parents – may have the least amount of time after hours. Leaders and managers should strive to make ERG work a part of the regular workweek, particularly given the ways the work benefits the company. When ERG initiatives receive a dedicated time and place, it reinforces their value to other employees as well as management, allowing their culture-shaping efforts to grow deeper roots and become truly transformative. This goes for all company culture efforts, and not just ERGs: if you want to create a more human workplace, it's vital to structure the time to achieve that goal.  
Time isn't the only thing holding workers back from joining ERGs. Workers may also be hesitant to join ERGs based on their seniority at the company. Younger employees (ages 18-34) topped ERG participation, at 26.8%, but as of right now, middle managers are driving participation in ERGs. Of those respondents who have participated in an ERG, 66.4% stated that middle managers were among the participants, as opposed to only 47.2% who said junior employees were present. Companies can make ERGs more welcoming by encouraging participation at all levels.  
If ERGs are for everyone, then the work must be equitable.  
As organizations strive to be more inclusive, they must be dedicated to uplifting the voices of those groups and individuals they want to include. But they can't place an undue burden on them. Unfortunately, our survey finds that employees of color carry an unfair weight of the responsibilities of ERG work.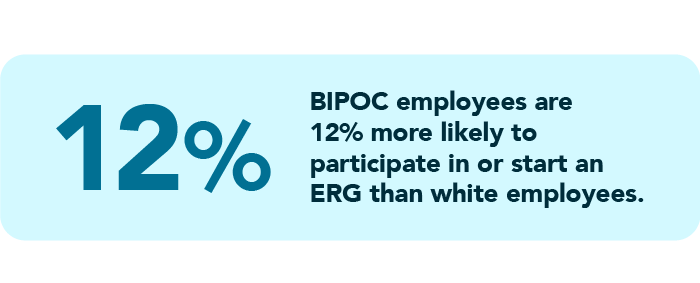 Employees of color were also 18.1% more likely to be pressured by their companies to start an ERG.  
Leaders can address these inequities by making sure that every ERG at their company has ample support and resources, including designated time to convene around their work. They should never pressure employees to start an ERG or other internal organization. Instead, ERGs should evolve naturally from employees' needs and desires.  
Of course, that isn't to say leadership shouldn't encourage these groups to take form. In fact, workers want more involvement from management when it comes to ERG efforts: When asked how they would feel if they were in an ERG with leadership, 30.7% of employees said they would feel "supported" and 18.5% would feel empowered. A lack of support from upper management/leadership was also the most-cited reason for leaving an ERG. With younger and traditionally marginalized employees carrying so much of the weight when it comes to ERG participation, it's imperative that leaders step up so they're not overburdened.   
Fortunately, there are direct actions leaders can take to keep employees from leaving or avoiding ERGs, namely in the form of compensation and recognition. Of those employees who have participated in an ERG, less than half (46.4%) have received additional compensation for their work, and this lack of compensation can deter them from participating. Balancing compensation with effective strategic recognition, where employees receive specific, authentic praise for their efforts, will reinforce the value of ERGs and their hardworking participants.  
As we endeavor to create more inclusive workplaces where everyone can thrive, employees deserve to be a part of that transformation. However, it's up to leaders to empower these groups by giving them the time and resources to do their work, ensuring work is distributed equitably, and recognizing their accomplishments. After all, companies only stand to benefit when ERGs have the potential to affect remarkable change across the organization and beyond. By advancing the needs of diverse employees, ERGs contribute to a culture of belonging that will make employees feel valued and want to stay.