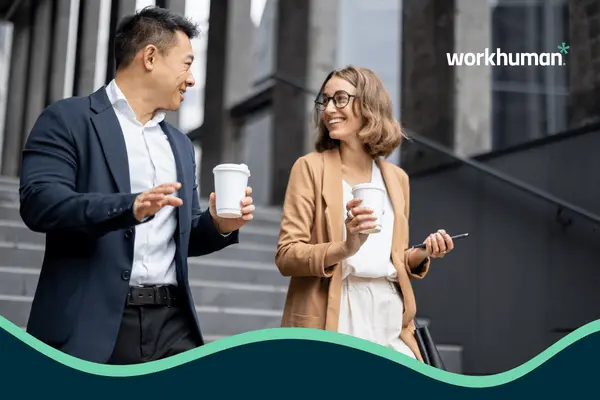 The connection is undeniable and irrefutable: a strategic, comprehensive recognition program is a key factor in driving employee engagement.
Employee engagement and recognition: it's a connection backed by decades of data and research – and most recently reaffirmed by the Gallup - Workhuman report, "Unleashing the Human Element at Work: Transforming Workplaces Through Recognition."
As the report notes, "Recognition isn't just a nice to have; it is a core 'human' element in the employee experience that drives employee performance, engagement, and retention."
To cite one of the report's many hard data points, employees who feel fulfilled by recognition are 4x as likely to be engaged in their work.

Are your employees engaged?
When organizations fail to have a vibrant employee recognition program in place, the impact is significant and far-reaching. It reduces engagement, productivity, and employee retention in real and meaningful ways.
As the Gallup report points out, "Experiencing consistently low levels of recognition is a drain on the employee experience and workplace culture that can have serious repercussions.
When organizations fall short on showing employees they are valued, they risk losing their employees altogether."
The data backs this up.
According to Gallup, workers who receive employee recognition only a few times a year from a manager, supervisor, or other leader, are:
5x as likely to be actively disengaged
74% more likely to say they do not plan to be at their organization in one year
27% more likely to be struggling
Likewise, workers who receive employee recognition only a few times a year from their peers are:
3x as likely to be actively disengaged
39% more likely to say they do not plan to be at their organization in one year
24% more likely to be struggling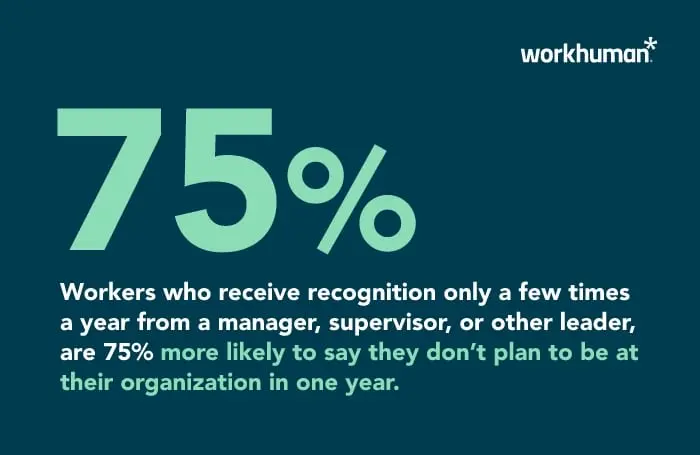 The connection between employee recognition and engagement
I've noted the positive impact a strategic and comprehensive employee recognition program can have on employee engagement - and how it can motivate employees.
I've also touched on the negative repercussions when recognition fails to be integrated into the core of a company's culture and company values.
But it's important to recognize that there are other far-reaching benefits of employee recognition and its impact on performance.
Looking again at the Gallup report, we find that when recognition programs hit the mark, workers are:
73% less likely to "always" or "very often" feel burned out
56% less likely to be looking or watching for job opportunities
44% more likely to be "thriving" in their life overall
5x as likely to feel connected to their culture
5x as likely to see a path to grow at their organization
4x as likely to recommend their organization to friends and family
And here's a benefit your bean counters will love. In one of the report's most stunning conclusions, it found that creating a culture of recognition through a successful employee recognition program can save a 10,000-employee company up to $16.1 million in employee turnover costs annually.
That's in addition to the cost-savings that accrue from boosted employee engagement and productivity.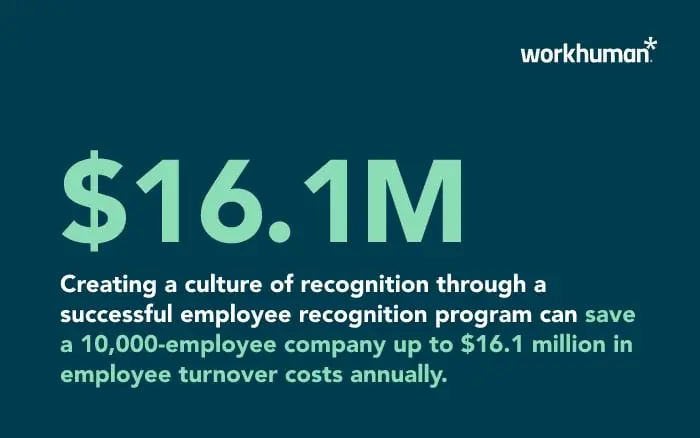 How does recognition impact employee engagement?
As this data reminds us, recognition brings the "human" element to the workplace, setting the tone for the entire employee experience.
It points out that when organizations get recognition programs right, employees are more committed, engaged, and connected to their workplace culture, have stronger working relationships, and feel a sense of belonging at their organizations.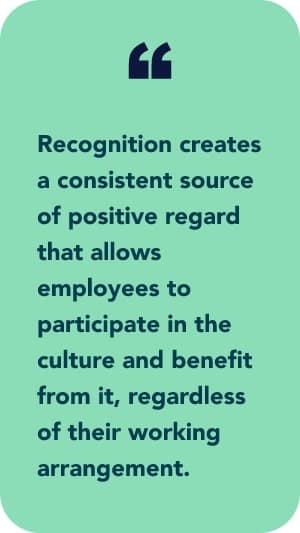 Why is that important? Quite simply, employee engagement is critical for high-performing teams and organizations, and recognition is one of its most vital foundations.
Findings from the report back this up: Employees who agree that their recognition needs are fulfilled and that the recognition is authentic, equitable, and embedded in the culture are far more likely to be engaged.
Of course, this all takes on a renewed importance and poignancy in a time when many employees are working remotely – either all or part of the time. In this dynamic, the need for connection and community is more critical – and more elusive.
That's why today, it is so important to recognize employees and build a positive company culture.
This too is confirmed by the Gallup report: "As a culture-building tactic, recognition creates a consistent source of positive regard that allows employees to participate in the culture and benefit from it, regardless of their working arrangement."
When workers — whether remote, hybrid or on-site — get the right amount of employee recognition, they feel more connected to their organization's culture. And that means they have a better experience – and are more engaged.

The keys to your recognition program's success
According to the Gallup report, "All recognition matters, from simple, day-to-day 'thank-you's' to company-wide awards." Yet at the same time, the effectiveness of recognition can vary widely.
It identifies five factors that drive the effectiveness of an employee recognition program. Gallup research tells us recognition must be:
1. Fulfilling
If employees do not feel fulfilled by their recognition experience, then employers are missing the mark. Recognition is about validating an employee's effort, added value, and inherent worth.
2. Authentic
What makes recognition impactful is what it means to individuals — about themselves, their job, their teams, and workplace — and the organization.
3. Equitable
When employees see peer to peer recognition that is out of balance — particularly when they themselves feel they are being shorted — it triggers an alarm to their basic need for fairness, and damages the overall employee experience.
4. Embedded in company culture
Recognizing employees can be a practice, or it can be the way of life at an organization. The distinction between the two makes a noticeable difference in the daily experience of employees. Simply having a program is not enough; recognition needs to be a core of your company culture.
5. Personalized
Organizations that provide a variety of outlets for recognition offer the flexibility to personalize it and ensure it creates the intended impact.

Getting the most out of your employee recognition program – 6 questions to ask yourself
As I noted above, not all employee recognition programs are created equal. They can range from managers randomly handing out gift cards, to a homegrown, "do-it-yourself" (DIY) solution, all the way up to a strategic recognition program that truly energizes, motivates, and engages your employees.
Let's look at DIY solutions. At first blush, it might seem that building a "homegrown" recognition program is a no-brainer.
You simply give managers a budget to give out gift cards or have your IT team put together software that will manage the program. Simple, right?
But who's going to "own" the program? How will you prevent misuse? How can you be sure it will align with your company values?
Can it be administered in a fair and equitable way? And if you're an international company … Well, that brings in a whole new set of issues in terms of governance and compliance.
If you've been thinking about implementing a homegrown social recognition program – or if you already have a "do-it-yourself" (DIY) solution in place – you may want to think again.
A Workhuman webinar explored what it takes to make a social recognition program successful – while sharing the six common risks homegrown rewards approaches face.
1. Does it offer the technology you need for program success?
​​Technology is key to the success of an effective social recognition program because employee recognition programs should be easy to use, prevent fraud, and enable recognition up, down, and across an organization.
2. Will it reflect your organization's culture with strong branding?
​​An effective social recognition program should look and feel like it's part of your organization and reinforce your brand and core values.
3. Will it enable a program design that maximizes impact, broadcasts values, and shows a positive business outcome?
A well-designed social recognition program takes your core values out of the employee handbook and puts it in front of people. It also makes widespread participation – both giving and receiving – possible.
4. Will it offer meaningful rewards?
Just as recognition moments should be meaningful and memorable, so should the recognition rewards themselves. They should be culturally relevant – no matter where on the globe the recipient lives – and they should be timely.
5. Does it offer the built-in analytics and insights that will deliver program trends, growth, and sustainability?
Perhaps one of the biggest risks of homegrown solutions is their lack of, or limited ability to provide actionable data. A social recognition platform has the data built in and easily available – often in formats that anyone on the leadership team can immediately access and use.
6. Can it support program growth and sustainability with ongoing change management?
It's one thing to put a program in place; it's quite another to evangelize, drive adoption of, and grow that program throughout your organization.
The importance of company-wide support
Getting managers and employees to embrace a recognition program takes more than an announcement email.
It involves an overall strategy that might include program marketing toolkits, pre-launch and post-launch communications, and a continuing effort to keep the program top-of-mind throughout the company.
Executive sponsorship plays a key role in the success of a newly introduced program. It's important to get leadership buy-in early in the process – even when deciding whether to institute a recognition program.
If you can get leadership buy-in early, it gives you an opportunity to show what the value of a recognition program will be.
When a program is launched effectively, you start to see results immediately. There are so many different areas of HR technology where you have to wait a few years before you see the impact, but the impact of social recognition is felt quickly.
Finally, a comprehensive, robust social recognition program sends a clear message to your employees.
It tells them you made an investment in them. You believe in them. And you believe in recognizing them for the work they do.
Proving the link between employee recognition and engagement
Recognition is one of the most important factors in driving employee morale, retention, productivity, and engagement.
The research has shown it, over and over, and the recent Gallup – Workhuman report once again confirms this truth.
At its core, employee recognition is just another word for positive feedback – feedback focused on an employee's strengths and what they're doing right. It is – quite simply – an expression of thanks and gratitude.
And when it's done across all levels of an organization, it makes work more meaningful, employees more engaged, and companies more successful.
Learn how you can boost your organization's employee engagement through recognition.
Read the full Gallup – Workhuman report today.