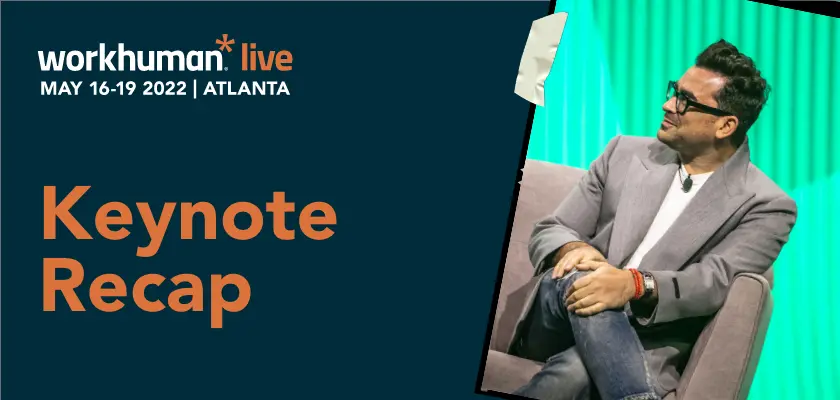 There's a moment in an early episode of "Schitt's Creek" where David explains his sexuality to Stevie with an easy metaphor: "I like the wine, not the label." There's no big reveal, no messy exploration of emotions – it's just one friend sharing part of himself with another.
The moment – so subtle it's easy to miss – hints at a bigger question "Schitt's Creek" asks throughout its highly acclaimed six seasons: What would life look like if we were all supportive of each other?
The answer: beautiful.
The idea that there could be a world in which love and acceptance are freely given and received is, in fact, what "Schitt's Creek" co-creator and executive director Dan Levy set out to explore when the series began seven years ago. And, as Workhuman® Live's closing keynote, Dan took center stage to discuss just that.
Dan joined fellow New York Times bestselling author Cy Wakeman in a conversation-style format, delighting the audience with his characteristic charm, wit, and grace while reinforcing one simple yet powerful message: Kindness always wins.
It's a theme that runs throughout the series, lauded, in equal parts, for its inclusivity and its comedy, and it served as the perfect end to Workhuman's week-long celebration of humanity.
Dan's beloved David Rose may have been the one to steal our hearts on screen, but it's Dan who created a warm, inviting space to explore what it means to be human – and to lift each another up in the process.
Here are 7 reasons why Dan Levy is our kind of human:
#1: For teaching us beautiful life lessons
It's one thing to create a comedy – it's quite another to create a comedy through a humanist lens. "When you get people laughing, you disarm them and can slide in with beautiful life lessons," Dan said during his keynote. Stay true to yourself: ✅. Love always wins: ✅. Small gestures of kindness make a big impact: ✅.
#2: For creating safety to explore your own feelings
When Dan co-created "Schitt's Creek" with his father Eugene Levy, the end goal was always to create "neutrality in terms of who everyone is." In other words, to avoid putting characters into stereotypical boxes and, instead, to create meaningful stories, trusting the audience to decide for themselves how to feel about the characters.
"David's sexuality was always dealt with in a casual way because that's how it should be done," said Dan, noting that he deliberately created a storyline for David antithetical to what's more commonly portrayed on television. "I hadn't seen much where I didn't have to worry about something terrible happening to a member of the LGBTQA+ community."
#3: For declaring the power of love
Who can forget David cranking up Tina Turner's "Simply the Best" as a demonstration of his abiding love for Patrick? Yet, throughout the series, love came in many forms; it knew no bounds. "We got to tell the story of what's valuable," said Dan, "and, in doing so, we honored the characters and the story – and I feel like we honored the experience of the people watching it, too."
#4: For expressing gratitude
When asked about expressing moments of gratitude on the "Schitt's Creek" set, Dan said he was "very intentional" about creating a comfortable, safe, and appreciative culture. "It was fundamental that nobody on the team felt a sense of displacement," Dan said, pointing to the small, simple gestures like sending a "thank you" email to cast and crew every few weeks.
"I realized in the very early days of the show that my dad and Catherine [O'Hara] set a collaborative, appreciative tone – when the top sets a high bar of how we need to act, the ripple effect goes very deep."
#5: For showing what life would be like if we were all treated the same
At the show's outset, Dan knew he wanted "Schitt's Creek" to be something more than a "surface sitcom" – he felt inspired to create a better version of the world, one where people were treated fairly, without question. "We had the power to tell a story where David's persona wasn't up for debate," said Dan. "In that sense, we had an obligation to show what life would be like if we were all treated the same." That's a mantra Dan demonstrated on the Workhuman mainstage, too.
#6: For lifting each other up
One of the things we talk about frequently at Workhuman is building people up to reach their full potential – it's core to the human experience.
During his keynote, Dan spoke about a single moment from childhood that changed the trajectory of his life. When he turned in a book report that didn't follow the rules of the assignment – instead writing the report as a short story told from four different narrative perspectives – his teacher read his assignment aloud to the class as an example of how everyone should be thinking outside the box.
"It shows how often we can look beyond the expected to see the amazing," said Dan, adding that he'd carried that single moment with him to the set of "Schitt's Creek," giving everyone an opportunity to voice their opinions about the script and characters prior to filming.
"As individuals, at times, we need to bring our excellence in – and, at times, we need to use that excellence to bless the work of others," said Dan.
#7: For making us feel all the feelings
One of the most impressive aspects of "Schitt's Creek" is its ability to juxtapose moments of levity with moments of authenticity. "At no point does the show shame people," said Dan. "Our point of view was never preached – it was always shown in a way that held space for many things to be true at the same time, allowing us to connect and evolve together." How else would we find ourselves laughing and crying at the same time as Moira, dressed as the Pope, officiated David and Patrick's wedding?
Final thoughts
It was one thing for the entire Workhuman Live audience to give Dan a standing ovation when he took the main stage – it was another to see many audience members donning David's signature lightning bolt sweater and white sunglasses.
That's the power of a powerful message.
When asked what he thought the lasting message of "Schitt's Creek" would be, Dan said he hoped to leave behind a legacy of beautiful, artistic contribution. "I hope it teaches how to live your own life, create your own beautiful story, and lift other people up along the way."
We know that it did.
Ready to bring kindness to the workplace?
Let's create a place where every employee feels like they belong. See how recognition can help.