WorkHuman 2019 is in a few short weeks – but the movement never stops. To inspire you with thought leadership from our speakers all year long, we decided to start the Workhuman Book Club. Every month we'll read and review a book authored by one (or more) of our incredible Workhuman speakers. Join us over in the Workhuman Book Club Facebook group to discuss the content with fellow bibliophiles and get the inside scoop on upcoming Facebook Live events with the authors.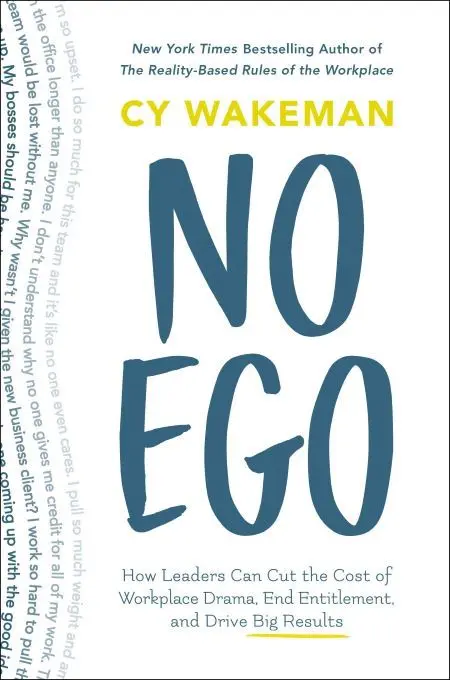 It's happened to all of us over the course of our careers. We receive less than stellar feedback and it guts us – then kills our productivity for the rest of the day. We hear some gossip and pass it on, not wanting any of our work friends to feel left out. We complain to our manager about a new companywide policy, even though she can't do anything to change it. We struggle to get our work done because we're distracted by our dissatisfaction with this initiative or that activity.
The problem? According to WorkHuman speaker Cy Wakeman, author of "No Ego: How Leaders Can Cut the Cost of Workplace Drama, End Entitlement, and Drive Big Results," it's that we're bringing our egos to work – which means we're failing to create an environment of accountability for managers and employees, one that prioritizes achieving business results together.
In "No Ego," Cy explains that leaders across industries falsely believe two things to be true: that "change is hard" and that "engagement drives results." Your organization or team may have an ego problem when you find yourself spending time trying to engage employees, overcoming their resistance to change, attempting to increase their motivation and/or accountability, and working to get their buy-in on decisions over which they have no real say. Managing these behaviors costs organizations both time and money – the average worker spends 2.5 hours every day embroiled in ego-fueled workplace drama.
While some people may think Cy's lessons lack compassion for the whole human, I believe her goal is to show us that we can achieve true workplace accountability – even when it's hard. Here are three no-nonsense lessons from "No Ego":
1. "Suffering is optional and usually self-imposed."
Reality is reality. Unfortunately, we all have mental filters that distort reality to fit the stories we tell ourselves – to make us look good or to excuse our negative actions. Cy explains that we need to dig past these ego-infused stories to reveal the truth, and that our pain in any given situation comes from our inability to adapt to that situation as it stands.
2. "Too many leaders use sympathy to connect with employees."
Instead, Cy explains, leaders should fall back on empathy. Being empathetic allows you to acknowledge a person's suffering, but then call them to greatness by helping them separate that suffering from reality.
In a 2017 interview Cy told the Huffington Post, "When people come to us for leadership … we fail them when we collude or sympathize or roll things out with our personal opinion. I think that's such a good lesson for people to learn early on in their careers."
3. "Engagement without accountability creates entitlement."
Cultivate a work environment that helps people become "resilient, agile, and personally accountable." These employees don't need their leadership to bend reality because they're not stuck in their ego and they can adapt when change occurs – which, in business, it often does. If leaders continually shield their workers from the reality of what it takes to be successful and innovative in their organization, then they're just stroking the ego. Highly accountable employees prioritize business needs over personal beliefs and work for the betterment of the organization as a whole.
As Cy has been known to say, "Your circumstances are not the reason you can't succeed. Your circumstances are the reality in which you must succeed." And indeed, one of the strengths of "No Ego" is that Wakeman sets readers up for success. There is an entire toolkit, positioned as an appendix, where she shares questions and strategies for helping employers and teams "break projection, bypass the ego, and facilitate great results." That way, if you're stuck with how to achieve any of the book's directives, there are self-reflection activities designed to help you get there.
Join us over in the Facebook group all month long to chat with your peers and answer these book club discussion questions, adapted from the "No Ego" Book Study Guide:
What kind of ego-driven behaviors have you noticed in your organization? What do they cost you?
Now that you've read "No Ego," what flaws do you see in your organization's engagement surveys?
How do you cultivate accountability on your team or among your colleagues?
Can you share an example of a situation in which someone's personal preference got in the way of your organization's overall potential?
What is the best tip from "No Ego" that you will act on and share with others?
(Cy will present a session entitled "Employee Engagement is Broken: Unlocking the True Driver of Employee Performance" at WorkHuman 19, in Nashville, March 18-21.)