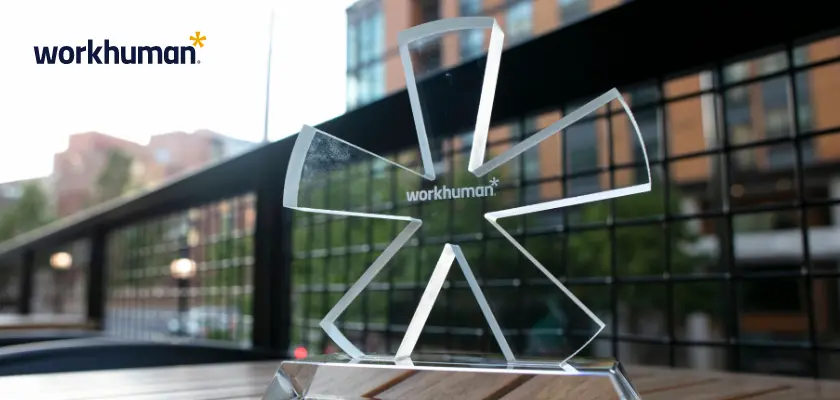 Three years removed from an in-person Workhuman® Live, there was no event I was looking forward to more than the customer awards night. Recognizing the pioneers of the human workplace has always been one of my favorite parts of my role and it was such a thrill to celebrate the accomplishments and progress of this year's winners with those in attendance.
These organizations set a new standard for instilling gratitude, empowering employees, and creating more inclusive and equitable workplaces. And I wanted to highlight their efforts over the last year.
The Accelerate Award
The Accelerate Award is given to the customers with the best recognition program launches. In 2021 those customers were AstraZeneca, Johnson & Johnson, and Nutanix. AstraZeneca was one of our first strategic, global customers to launch its recognition program, CatAlyZe, at the height of the pandemic. AstraZeneca's team organized a coordinated and thorough program design and launch process that focused on reinforcing its new company behaviors and values by tying it into its "Growth through Innovation" strategy. In its first 20 months, the program has reached one million recognition moments.
When Johnson & Johnson set out to launch a global recognition program with Workhuman, it was the first time it had ever undertaken the rollout of a single HR program to all 140,000 global employees in 77 countries. One of its biggest reasons for success: executive buy-in. Members of the leadership team were featured in a launch day video message encouraging J&J employees to participate in the Inspire program and involved members of its global HR community in a three-day kickoff session and six-week video campaign illustrating moments of gratitude around the company.
The success of Nutanix's global Excellence program in more than 40 countries and a dozen languages stems from its commitment to a values-based, strategic approach to recognition. Working closely with the Workhuman team, Nutanix was able to maximize its investment and experience immediate success that yielded an additional program investment.
The Amplify Award
The customers who inspired and engaged its employees in innovative ways to drive human moments that matter this past year were Citizens, Manulife, and PepsiCo. In three years with its Credo Awards program, Citizens has zeroed in on one of its key metrics of success: the impact of recognition on engagement. Credo Awards is hitting the mark on every best practice metric, including APE (awards per employee) (top 25% in financial services), recipient reach, and nominator reach. Citizens is continuously looking to lead the pack in what great looks like by celebrating every employee for who they are and what they do.
With more than 35,000 employees worldwide, Manulife's Podium program needs to be laser-focused on delivering an equitable employee experience – and it has been since day one. The team never shies away from challenging existing frameworks and processes to deliver excellence to its employees, and there is no better evidence than the consistently high nominator and recipient reach.
Since launching its Smiles program in August 2020, PepsiCo has weaved the program into "My PepsiCo Way" behaviors and embedded it into daily work. The ongoing communications campaign highlights awards to spotlight employees and desired behaviors. The nominator of the millionth Smiles award was offered a $1,000 donation to the charity of their choice. PepsiCo's team regularly communicates about the program and includes it in other company initiatives, like recruiting.
The Culture Award
The Culture Award recognizes the culture keepers. These are customers who have brought company values to life, pioneering and championing human-centric work practices. Here are this year's winners.
Since launching Social Recognition® in 2018, bp has built a solid foundation of positivity and gratitude centered on its core values and sustainability aims. The company has some of the highest adoption of recognition systems among employees, even those who are offline and added a referral award program, Life Events®, and Conversations®. These initiatives connect bp employees around the world to each other as well as the company mission and values.
GLG consistently looks for opportunities to expand its recognition program, APPLAUSE – by leveraged internal ambassadors to promote the program, participating in global events like Employee Appreciation Day and World Gratitude Day, and adding Service Milestone® awards to connect its culture. The success is a direct result of company-wide efforts and buy-in from the leadership team.
Since its founding in mid-2021, the intention at Organon has been "culture first." Standing up a recognition program highlighting its behaviors was its first order of business and Organon's leaders issued an all-employee award in appreciation of their efforts when the program launched. Organon has since adopted Conversations into its daily operations to usher in a culture of feedback and employee empowerment. Organon has demonstrated its human-centric culture by putting employees at the center, and seeing, hearing, valuing, and appreciating them frequently throughout the year.
The Innovator Award
The winners of the Innovator Award fearlessly embrace the technology changing HR and are paving the way for current and future customers with future-of-work thinking.
ChristianaCare launched its rewards program in early 2021 and saw quick success thanks to broad integration across services like Outlook and Workday. Most notably, in-depth User Acceptance Testing (UAT) paved the way for widespread adoption and more investment in human-first programs.
IBM has been on a long journey of transforming its employee experience and performance management practices. Taking into account input and feedback from employees through surveys and sentiment analyses, IBM created its Checkpoint program, which emphasizes frequent feedback and more consistent, holistic evaluations of performance – all with a forward-looking lens. The shift has resulted in more employee engagement, growth, and empowerment.
LinkedIn has long integrated recognition in the day-to-day operations of its business. In the last year, the company pushed the ripple effect further by establishing a separate program to recognize the efforts of its employee resource groups in creating a more diverse, equitable, and inclusive workplace for employees around the world. LinkedIn also bolstered its new hire recognition program by adding an award that is issued automatically each month.
Since launching its AMAZE recognition program two years ago, Rocket Companies has expanded beyond the core rewards program to encompass the broader employee experience with programs like years of service, referrals, and sales incentives. The Rocket Companies team has continued to look for creative ways to promote recognition through various channels and it has paid off. Effective communication and promotion of recognition has led to a 100% recipient reach and a 66% nominator reach.
The Luminary Award
Merck embarked on a journey to elevate its already robust recognition program by infusing it with a global inclusion awareness initiative. With Inclusion Advisor featured in its rewards program, Merck creates learning moments around unconscious bias every 34 seconds. This initiative is part of Merck's commitment to not only promoting inclusion, but also bringing awareness of unconscious bias in the way we interact at work and in the world. This past year, Merck saw its two millionth recognition moment.
The future of work is here.
Find out what it looks like and what companies need to do to build a better workplace.