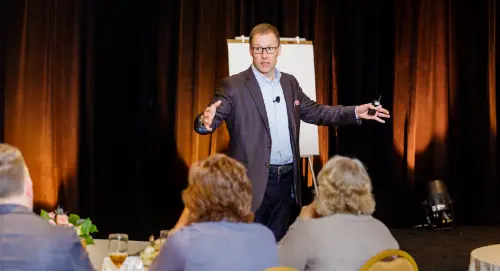 The research on the business value of trust is undeniable, but there's one simple daily task that illustrates what the lack of trust costs an organization.
How long does it take to write an email to someone you trust? How long does it take to write an email to someone you don't trust? A few minutes longer? Twice as long? You ask yourself, "Will they read this the wrong way? Will it be forwarded? Will it be held against me if something changes?"
Now multiply these head games – because of lack of trust – throughout your organization. What is the cost of lost productivity?
The email example is just one of the many profound thoughts David Horsager shared with attendees at the Executive Forum as part of the Workhuman® Live conference in Nashville. David, CEO of the Trust Edge Leadership Institute and author of the national best-seller "The Trust Edge," shared concepts, stories, and data that clearly articulated trust – not money – is the currency of business and life.
The 2019 Trust Outlook, David's study on the landscape and impact of trust across divisions and around the world, reveals some sobering results:
83% of Americans do not refer the products or services of organizations they do not trust.
95 million Americans say their organization does not place a high priority on proactively developing trusted leaders.
83% of people say they would not follow a leader they don't trust.
But the survey also reveals actions leaders can take:
More than 92% of people would trust their senior leader more if they would be more transparent about their mistakes.
61% of people surveyed said not communicating the "why" for change is what most hinders leaders from building trust.
85% of people believe a high-trust work environment helps them perform at their best.
"Your core issue is never a leadership issue, a financial issue, a sales issue, a cultural issue or even an engagement issue," said David. "At the core, it's always a trust issue. Everything of value is built on trust. A lack of trust is the biggest expense you have. We have got to look at it differently."
David asked attendees to choose the one word that defines trust. The words most mentioned were honesty, transparency, belief, authenticity, credibility, and vulnerability.
As an action, David shared his 8-Pillar Trust Edge Framework™, which includes:
Clarity: People trust the clear and mistrust the ambiguous. Clarity unifies, motivates, increases morale, and inspires trust. Clear communication leads to trusted colleagues, happy employees, and satisfied customers.
Compassion: People put faith in those who care beyond themselves. Caring leads to trust. Think beyond yourself and put people before things to improve relationships.
Character: People notice those who do what is right over what is easy. Building integrity takes work but gives the biggest reward. Always ask yourself, "Is this the right thing?"
Competency: People have confidence in those who stay fresh, relevant, and capable. Stretch your mind with new ideas, fresh thoughts, and different perspectives. Find a circle of professionals with whom you can grow and find a mentor who is successful or wise in the same ways you would like to be.
Commitment: People believe in those who stand through adversity. In this instance, actions definitely speak louder than words. So if you say something matters to you, be prepared to show it to the people whose trust you want. It can mean demonstrating tenacity and stubbornness and making it clear you will see things through to the end.
Connection: People want to follow, buy from, and be around friends. Engage your staff and collaborate. Ask questions, not only of your employees but your customers, and be sure to listen to and deliberate over their answers.
Contribution: People immediately respond to results. Give your attention, resources, time, opportunity, and talent. Ultimately, you must deliver results in order to be trusted.
Consistency: People love to see the little things done consistently. The track record of trust is built over time; there is no other way to lasting success. Deliver the same quality of results every time, and you will maintain trust.
RELATED POSTS
5 Tips for Building Trust in Your Organization