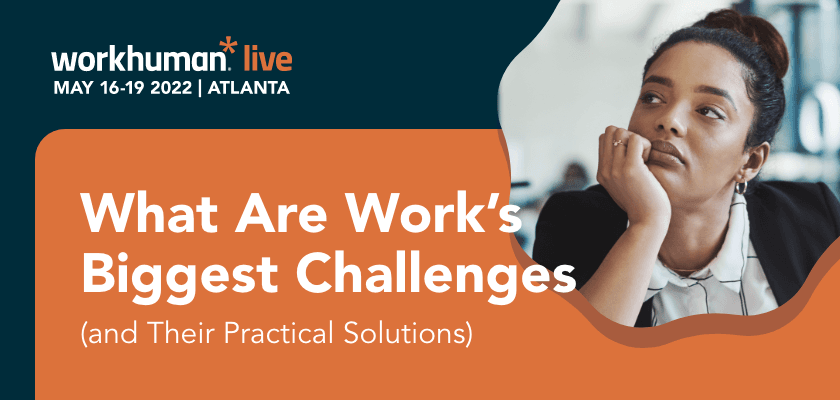 The global pandemic turned nearly every truth about the way we work upside down, and in doing so, has shaped and redefined the challenges business leaders are facing today. Drawing on the findings from a Workhuman® iQ survey of 2,268 full-time workers across the U.S., U.K., Canada, and Ireland, we've identified some of today's most pressing workplace challenges – and four solutions that will help you meet them.
Spoiler alert: The fourth solution – Workhuman® Live – will not only help you meet the new challenges the pandemic has brought to the workplace landscape, I can tell you from firsthand experience it will be one of the most inspirational events of your life. With Schitt's Creek star Dan Levy and world champion gymnast Simone Biles headlining a lineup of the biggest names and brightest stars, this promises to be the best Workhuman Live yet.
Want to learn more?
Workhuman Live Atlanta takes place May 16-19th.
Challenge 1: The 2D vs. the 3D experience
As more employees are physically separated at least some of the time, HR leaders are concerned about the potential negative impact on culture and connection – and the resilience of their workforce.
They have reason to be concerned. According to the survey, hybrid workers feel more appreciated and connected to company culture than other groups. And both hybrid and on-site workers feel a greater sense of connection to colleagues – thanks to some face-to-face interaction – than fully remote workers.
The challenge? If your company has a combination of hybrid, remote, and on-site workers, remember that 39% of hybrid and just 29% of remote workers agree with the statement: "When I work from home, I don't receive as much recognition as my on-site colleagues."
Solution: Foster intentional appreciation
How can HR and business leaders mitigate the detriment side effects from nearly two years of upheaval? By tapping into the outsized business impact of appreciation. The survey shows us that people who were thanked in the last month are half as likely to be looking for a new job, 2x as likely to be highly engaged and respected at work, and 3x as likely to see a path to grow.
Challenge 2: The Great Resignation
It's been almost a year since the phrase "the Great Resignation" was first coined. And while there may be signs of a slight easing, it's clear that the exodus of workers is a challenge leaders will have to contend with for the foreseeable future.
Certainly, the Workhuman survey bears this out: More than one-third of workers (36%) said they plan to look for a new job in the next 12 months. Millennials (aged 25-40) are more likely than any other generation to look for a new job this year (47%).
It goes without saying that this has significant cost implications in terms of recruiting and onboarding new hires. In fact, the cost to replace an employee is up to 2x their salary. But there are ripple effects, as well. As the survey points out, people who see turnover happening around them are more than 2x as likely to be looking for a new job themselves (48% vs. 24%).
Solution: Build connection to company culture and colleagues
A strong sense of connection to colleagues and company culture drives a sense of purpose and collaboration across an organization – and is closely associated with decreased turnover rate and mitigating burnout. Appreciation strengthens the essential bonds between employees and makes your organization a place where people want to work. In short, thanked workers feel more connected and less burned out.
Challenge 3: Making work more meaningful
As people are questioning how they spend their time – and how they make their living – it falls upon HR to formulate ways to make work less transactional and more human. During these times, it's incumbent upon leadership to forge a stronger sense of connection, community, and belonging. It's smart business because it mitigates turnover. And it's what employees expect.
Celebrating life events – a marriage, new home, having a baby, running a marathon – is another opportunity to humanize the workplace. Remote workers at companies that celebrate life events feel more respected (78% vs. 58%) and appreciated (75% vs. 44%) overall than remote workers at companies that do not.
Solution: Make appreciation a public happening
Witnessing colleagues being thanked publicly is associated with employees feeling more grateful. And that translates into other benefits such as greater appreciation for their achievements and a stronger connection to colleagues and culture.
In addition, public appreciation creates a psychologically safe environment in which employees feel empowered to share opinions and ideas. When employees witness moments of appreciation, they feel more respected at work and are more inclined to grade their manager favorably.
Finally, witnessing public thanks is also associated with less burnout and stress. The more you can amplify and socialize recognition, the more impact it will have across your organization.
Challenge 4: Addressing employee burnout
It's time for employee well-being to take center stage in your HR strategy. Among the many survey findings that should concern leaders, 54% said they feel mentally exhausted and drained after every workday. Fifty-eight percent (58%) said they do not think much about what they're doing at work and function on autopilot. And 44% admit they have trouble staying focused at work.
Survey data tells us that working parents feel much more stressed that their non-parent colleagues. That's no doubt why parents are more likely (+3 percentage points) to be looking for a new job this year – with 25% of them citing better flexibility and work-life balance as the primary reason.
Solution: Join us at Workhuman® Live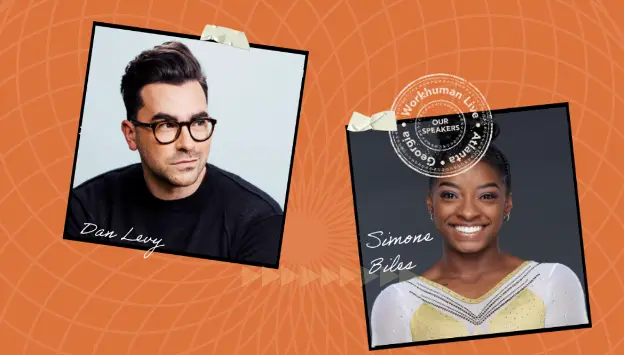 Schitt's Creek star Dan Levy and world champion gymnast Simone Biles headline a lineup of the biggest names and brightest stars as they share compelling insights, ideas, and inspiration on how to make work more human for every person on the planet. It the perfect antidote to employee burnout, and will help you discover ways to energize and revitalize you workplace culture. Choose from eight content tracks that offer countless ways to tackle HR's toughest challenges:
1. Reimagining Recognition for the Human Workplace – Discover how today's most resilient companies drive stronger performance and retention with their recognition program.
2. Unlocking the Power of Data – Explore the best of what data analysis has to offer in understanding organizational excellence, individual and team performance, employee retention, and more.
3. Building a Workplace for All – Learn how ongoing initiatives impact company culture and employee experience as we share effective strategies to integrate diversity, equity, and inclusion initiatives into your people programs.
4. Finding Joy and Meaning in Your Work – Join us in a crucial examination of how encouraging employees to establish strong, livable core values strengthens your culture and employer brand – and gives employees a sense of meaning and purpose.
5. Exploring the Next Horizon of People Practices – Learn how forward-thinking organizations are focused on transforming to build the new, modern workforce – one that can achieve greater agility, resiliency, and productivity.
6. Being a Champion of Workplace Culture – There is an opportunity for leaders to become the champions of change – the kind that not only catapults organizations toward sustained growth, but also helps redefine the relationship between humans and their work.
7. Turning Insight into Action – Learn how the Workhuman® Cloud can help you create a high-performing, human-centered organization – and propel you on the path to a truly human workplace.
8. Driving High Performance Through Employee Development – Discover how you can build employee trust and positivity by fostering feedback between colleagues and managers – and enact a truly effective performance management process.
Don't miss your chance!
Join us in Atlanta for an HR conference unlike any other.