Hanukkah, Hannukah, Chanukah … however you spell it, this Jewish holiday symbolizes hardship, victory, and pride. It's a holiday that commemorates the destruction of the second temple in Jerusalem, an event in biblical history where the "Maccabees," aka Jewish soldiers, fought the chaos and stood up for the Jewish people.
At the site of what was once a sacred place of worship, only ruins, destruction, and debris remained. In this unfortunate mess stood a menorah with olive oil that was only supposed to keep the candles lit for one day. The miracle of Hanukkah, and the reason why Jews around the world celebrate this holiday for eight days, is because the flamed menorah stayed lit for eight days – a miracle happened in the wakening of a win and conquering of the revolt that took place.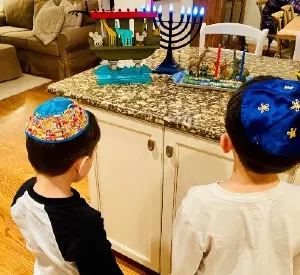 The word "Hanukkah" means "dedication" in the Hebrew language. This resonates deeply with me as dedication is at the core of who I am and what I thrive to continue to build on and how I hope I show up to others in the workplace.
I'm a senior HR business partner on the HR team at Workhuman, a company that stands for everything I was seeking for many, many years. Being Israeli born, fluent in Hebrew, and a practicing Jew, being part of a company whose mission is to bring humanity into our global workplaces and beyond has truly been a dream come true. In addition to the mission of Workhuman, the people-first culture, the leadership, and the company's suite of products are all things I identify with very strongly. Our product embodies the philosophy of appreciation, connection, inclusivity, and being employee-centric, all in an effort to transform workplace cultures to be, well … human!
This suite of products is Workhuman Cloud®. One of the offerings, Community Celebrations, is a recognition-based program in which employees can award and recognize internal communities within the company (e.g., employee resource groups, teams, or office-wide events) and create a celebration of what tied these people together.
The beauty of this is that there are a variety of different community celebration awards one can create. One is called, "We Belong Together." This award is dedicated to the international holidays and cultural festivities that our employees celebrate. For me, I was able to create this award to celebrate Hannukah, share personal photos of the holiday, and come together with my fellow peers and bring awareness to the holiday across the company. Once the award is created, it is shared within our global organization, enabling everyone to join in on the community celebration and add their message of congratulations, cheers, best wishes, and festive sentiment.
The notion of bringing your whole self to work is exactly this. Every company should serve to bring out positivity by sharing and embedding employees' family, friends, backgrounds, and memorable life events into the employee experience. To be able to be your authentic self is critical in creating an inclusive, diverse, and connected culture where every single human feels an exceptionally strong sense of belonging. Without that, there is no company, there is no quality work being done, there is no connection to a company's mission, there is simply nothing.
My very own mission as an HR professional and business partner at Workhuman is to share with external HR communities, leaders, and professional networks the impact Workhuman has had on who I am, who I stand to be, and how proud I am of my own identity, and to make sure people feel appreciated, seen, heard, and comfortable in their own skin at their place of work.
So, happy Hanukkah! May the festivity of light shine upon you.