Some years ago, in the midlife of my career, I attended a company sales kickoff conference in Miami. Five hundred of us gathered at the now demolished Sheraton Hotel in Bal Harbour to hear about our sales strategy for the coming year, our latest product vision, why Larry Ellison was Lex Luthor, and – of course­ – to party.
After a long day of keynotes, breakout sessions, hotel food, and rah rah, we unbuttoned our shirt collars and got ready for the day's highlight: the evening's social activity. For me, and if statistics can be retroactively applied for about 49 others too, that held the promise of free booze and no accountability.
Let's be honest. Conferences, whether company-held or industry events, are a perfect storm for people struggling with Alcohol Use Disorder. They are usually attended alone, typically in a city far from home, and almost uniformly have a social component centered around cocktails and more cocktails.
On one of the evenings in Miami, we all set off for South Beach where we broke into teams to do a competitive scavenger hunt followed by taking over a waterfront venue for an evening of food, music, and a bottomless well of liquor. It was Shangri La for an alcoholic undercover like me.
Fast forward and today, 13 years sober, I work for a company whose rallying cry is to make work human. While it is centered on recognition – the idea that expressing gratitude in the workplace creates more engaged employees and better business outcomes – it encompasses much more. More diversity, more flexibility, more belonging, more celebration of an employee's life both in and outside the office.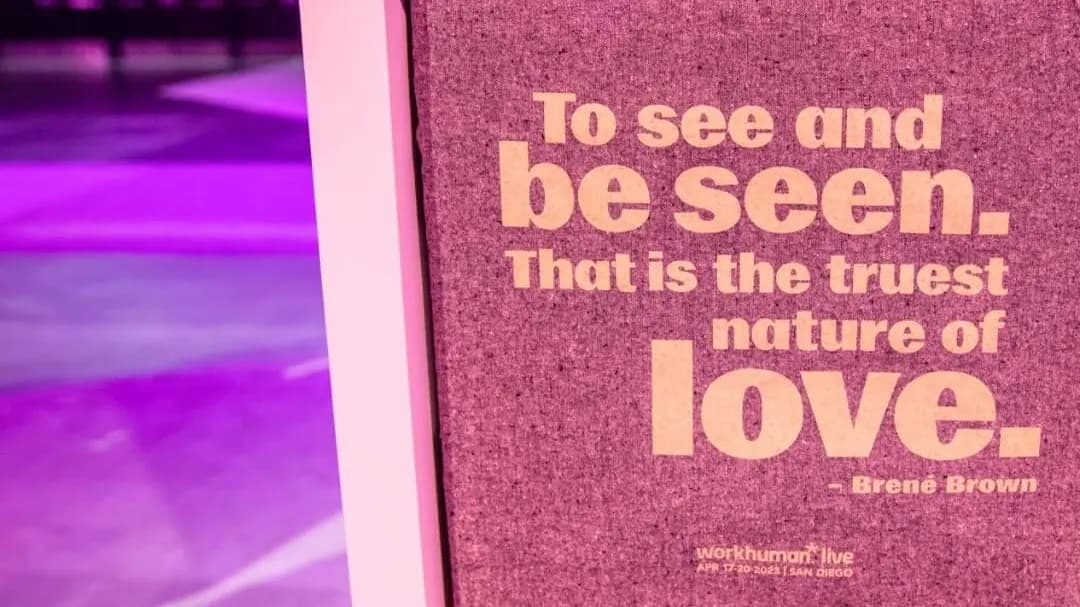 Making work human is to acknowledge that every employee is a world unto themselves.
That mindset is what led our company to host the annual Workhuman Live conference. Now in its 9th year, the conference is home to a who's who list of guest speakers, HR industry thought leaders and a creative exhibition hall centered around a 'Gratitude Bar.'
Here, some of the world's best minds gather to share transformative ideas and galvanize and inspire a community of thousands to create more human workplaces everywhere. Each morning at the beginning of the day's sessions, seats full of little worlds, attendees are greeted with a boisterous "Hello, Humans!"
Two years ago, I was approached by one of the organizers of Workhuman Live and asked if I would be comfortable leading an AA meeting at the conference. She was sensitive to the fact that evening activities at such events are often – if not alcohol-centric certainly alcohol prevalent – and thought grounding attendees in recovery with a meeting was a good counter measure. Having been there and done that, I didn't need to think about my answer. It would be my privilege, I said. 
So, as part of Workhuman Live's commitment to inclusion and bringing our whole selves to work, we added a "Friends of Bill" meeting to the agenda. There, we provide a safe space for humans in recovery from alcohol and drug addiction or have a desire to stop drinking or using. The Friends of Bill meeting is our version of an AA meeting, an opportunity for attendees to come together and support each other in facing the challenges that can come with attending an away from home conference. The meeting allows attendees to tell their stories, find fellowship and help each other on our personal journeys. We honor the tradition of anonymity and the one primary purpose of every such group – to carry the message of recovery to those who still suffer. It is a closed meeting, meaning only people who are in a program of recovery or feel like they might need to be can attend.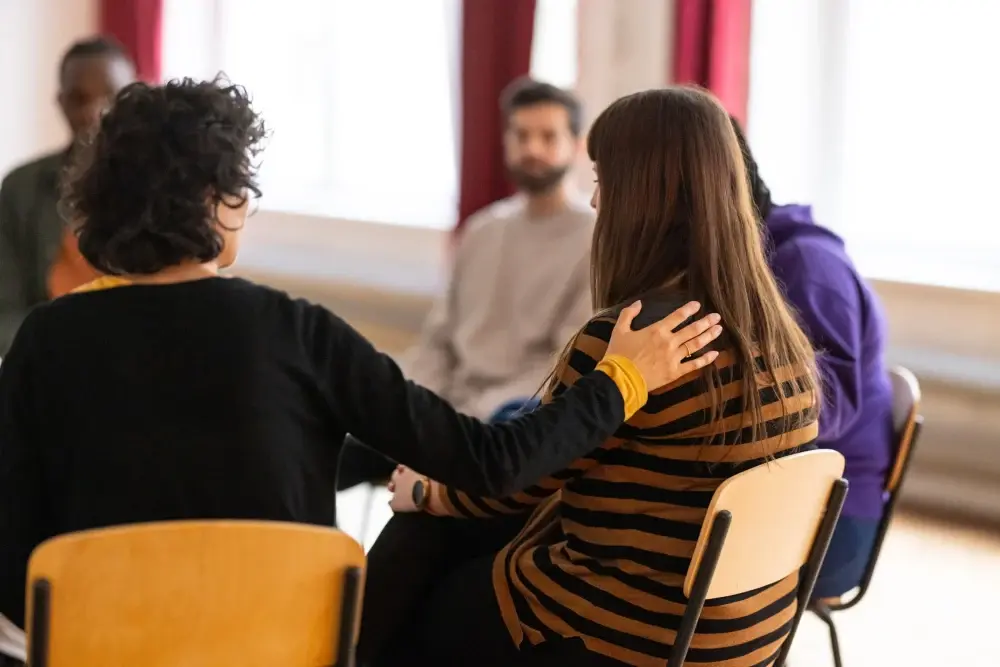 In my first year facilitating the meeting, two people showed up on the first day, and one was there by mistake (my joke was they thought it was a "Friends of Bill [Gates]" meeting). It was - in the most basic sense of an AA meeting - two drunks talking. On day 2, we increased attendance 100%. And on day three, we added a third.
As we all walked out of the room that last day, I, and I believe the others, had a deep sense of fulfillment and clarity that what we had done was essential. The thought occurred to me that with all the talk on stage and throughout the conference, there was no place and no time in the entirety of the program where a group of people experienced the bond of humanity and connection more than in that room.
This year, attendance doubled again. Over the course of the three days, six people showed up. three came every day, the others came once or twice, with one coming to gauge whether he had a problem or not. We didn't tell him whether he did or didn't, we just listened and shared our experiences.
On the first morning of this year's conference, one woman commented, "I was talking to a friend and told her I was going to an AA meeting at the conference, and she said, 'what kind of company does such a thing'?" Another said, "This made me feel like I belong here." One woman informed the group it was her AA birthday. She celebrated 5 years of sobriety that day in San Diego, so we got a cake and celebrated her milestone together.
Organizations rightly focus on ROI. They're in business to grow revenue, be profitable and maximize efficiency at scale. They invest in service to those goals. More progressive companies, dare I say more human companies, have expanded that traditional purpose and understand that a company must balance the needs of and commitments to all its stakeholders—customers, employees, suppliers, and local communities—and not just its shareholders.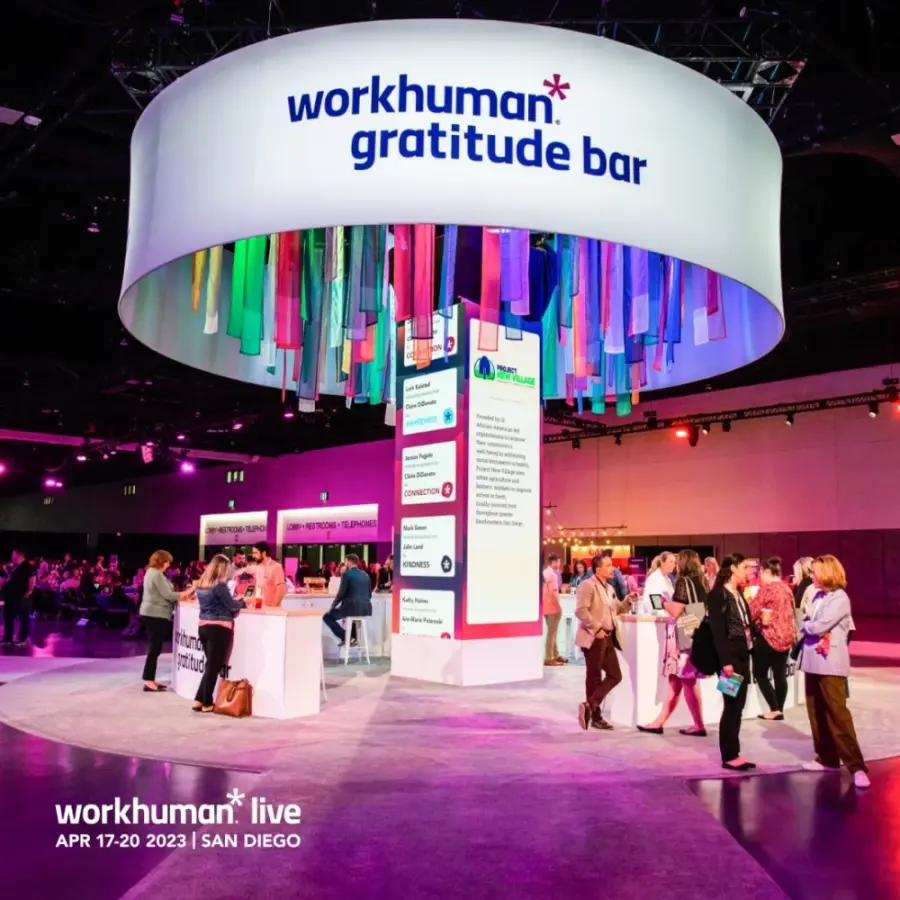 AA meetings are not about ROI, not in the traditional sense anyway. Their purpose is for members to "share their experience, strength and hope" so that they and others may recover from alcoholism and addiction. I like to think of it as "Return on Individuality." My story is not your story, but in it you may find something to draw encouragement from, something that says you can do it too.
If we are to make workplaces truly human, then we must acknowledge that every human brings a story with them, a story unlike any other in the world. Companies must make their offices and cultures a gathering place for those stories, for diversity, not just of genders, races, religions, and sexual identities, but of all forms of difference. They must seek a return on individuality, not just a return on investment.
For the attendees of the Friends of Bill meeting at the last two Workhuman Live conferences, having the meeting was a place to ground themselves in sobriety in what can be a challenging environment. They were grateful that Workhuman had the vision and sensitivity to hold such a meeting. It made their attendance more relaxed, more rooted, and more rewarding. It made their experience more human.