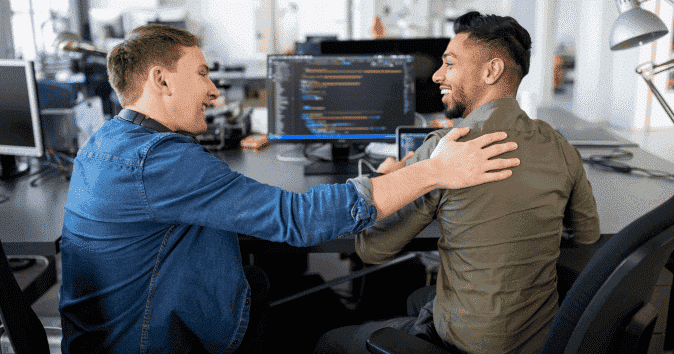 As a manager or company leader, one of your main concerns is ensuring that your employees receive appreciation and feel valued. Achieving this will go a long way in boosting the performance and job satisfaction of the employee and can even extend to improved profitability for the organization.
Today, we're breaking down "the five languages of appreciation at work" and why it's important to express genuine appreciation if you want to create a positive workplace culture.
Let's see how you can use the five languages to express your appreciation towards your employees in various ways.
What are the five languages of appreciation?
Appreciation is quite a broad term that can mean a lot of things. However, according to Gary Chapman and Paul White, appreciating and encouraging people in a workplace context boils down to five main aspects.
Here are the five different languages of appreciation, which are similar to the more widely-known five love languages.
Words of affirmation
We can define words of affirmation as statements you communicate to your co-workers to express your appreciation, respect, and gratitude toward them.These words of positivity are the primary language of appreciation, and you can communicate appreciation in various forms. For example, you can tell your team members how proud you are of them for achieving a certain goal. You can also convey to them your gratitude for their perseverance through periods of high workload.
Quality time
Quality time can be defined as being in your colleagues' company meaningfully. In other words, it's not sufficient to simply be in the same room with them. Spending quality time with someone entails being truly present with them and building a stronger bond.
You can do this in many ways, including events outside the workplace or having one-on-one sit-downs with your direct reports to actively listen to their concerns.
Acts of service
This language of appreciation is exactly what it sounds like.It involves giving a helping hand to a peer or employee when you see that they're swamped. Doing so gives the person on the receiving end the feeling that they aren't in alone and that you're looking out for their wellbeing.
Tangible gifts
Another way to express appreciation towards your employees is to give them gifts. In terms of gift-giving as a token of appreciation, it's not the monetary value of the gift that counts as much as the level of thought that goes into it.
Appropriate physical touch
While technically a language of appreciation, coming into someone's personal space is not always welcome. Everyone's comfort level is different and it can be especially distressing in a workplace where employees might fear repercussions for speaking up.
Handshakes, high-fives, and fist bumps are generally ok, but not everyone's preferred method of receiving praise. As with all of the languages of appreciation, asking for consent and what actually uplifts and motivates an employee will allow you to effectively express your appreciation.
How to use the five languages to express genuine appreciation
Now that we've broadly defined the five languages of appreciation, let's get into more specific details on how you can express and receive appreciation languages in the workplace:
Words of affirmation
When attempting to improve the workplace and boost your employees' morale with words of affirmation, the more specific you are with your praise, the more successful your attempt to improve the workplace will be.
Best practice
Many supervisors and managers cannot communicate effectively and fall into the trap of constantly dishing out generic praise in ways that aren't meaningful to their co-workers, such as "good job" or "way to go."While such statements may initially make an employee feel appreciated, employees need to know what specifically drove it. What is it about what they did that resonated? Receiving the same vague affirmation may lead them to think that it isn't heartfelt. In these cases, authentic appreciation is the way to go to strengthen work relationships.
Example
It's important to convey through your words of affirmation that you're paying attention to your employees' efforts. For example, showing genuine appreciation by telling a team member in your check-in that you admire the way they handled a complex task can go a long way.
Quality time
As previously mentioned, not all time spent with a person is quality time. Active listening, follow up questions, and even words of affirmation are some of the essential elements of quality time. 
Best practice
When spending quality time with team members, give them your undivided attention and really listen to them. Your body language is key to conveying that you're truly present and for staying engaged.
Example
For example, if you have lunch with your employees in the break room, but you're on your phone checking emails the whole time, then this won't do much to show them that you appreciate them.
Acts of service
When employing this strategy to show your appreciation towards your colleagues, the magnitude of the help you give isn't as important as the simple fact that you're offering assistance when you don't have to.
Best practice
Ask where you can help. You don't want to be an extra cook in the kitchen. Identifying where pain points are can target your assistance and not add the additional task of finding a place for you.
Example
For example, it can be as trivial as offering to take menial tasks such as data entry or filing documents off a colleague's plate. This can have a huge effect on their morale. It shows that you appreciate their hard work and want to help them through a rough day.
Tangible gifts
When giving gifts to colleagues to show appreciation and encouragement, the saying "it's the thought that counts" couldn't be more accurate. That said, a lot of that thought should be about finding something meaningful the employee will want. 
Best practice
You might think to show appreciation through gifts is to take the materialistic route, but it can be very significant.When done right, it shows the recipient that you took the time to think of a gift that caters to their taste and passions.This sentiment expresses your appreciation to a co-worker more than the gift's monetary value.
For remote companies
In companies where remote work is the primary mode of operation, it may be challenging to get to know your employees well enough to think of a gift they would love. Engage your remote employees in virtual events or experiences in their area they can choose from.
Appropriate physical touch
This is a language of appreciation that should be done with extreme sensitivity. Not everyone is a hugger. And while a handshake might seem innocent enough, some employees may want to limit their exposure to viruses and sickness.
Best practice
Don't assume an employee wants anyone in their physical space at work.
Example
It's important to be familiar with your employees' personal boundaries. If you feel compelled to deliver a high-five or want to hug someone to congratulate them, ask if it's ok and don't be offended if it's not.
Benefits and the importance of showing appreciation in the workplace
Developing a culture of employee appreciation is not just the right thing to do, it also allows you to reap several major benefits.
Improved employee morale
The first advantage of fostering a culture of appreciation in your workplace is that it'll make your company a place people want to be.
When your employees feel appreciated, they'll come to work with a positive mindset and attitude. This employee mindset has a cascading positive effect on their performance and, in turn, the company's performance.
Increased productivity
Any company will only go as far as its employees can take it. By consistently expressing your appreciation for your team members, you'll boost their potential for productivity and efficiency.
As a result, your team's performance will skyrocket.
Higher employee retention
The main reason people leave a company and search for employment elsewhere is the feeling of being unappreciated and unvalued where they're at. Therefore, showing appreciation and gratitude towards your employees will make them less likely to jump ship. This sentiment is echoed by 63% of employees.
This higher level of employee retention bodes well for a company's profitability since the company forgoes the costs associated with constantly hiring and training new employees.
Better workplace relationships
As a manager, one of your key objectives is to create a positive work environment that makes your employees look forward to coming to work each morning.
A great way to do so is to develop a culture that allows your employees to work with both yourself and their peers. You can achieve this by implementing the five languages of appreciation into your management strategy.
The result will be a stronger bond and sense of camaraderie between you and your team members.
Enhanced employee engagement
When your employees feel appreciated and know their worth within the company, they'll undoubtedly have a greater sense of belonging. When your employees feel valued as members of the organization, they'll be more engaged and willing to elevate their performance to help the company thrive and grow.
Impact of lack of employee appreciation in the workplace
Just as expressing appreciation in the workplace can have a profound positive effect on employee and company performance, a lack of appreciation can have a reverse effect.
Here are the main effects of a lack of appreciation in the workplace.
Negative effects on employee morale and engagement
When employees feel like they're just another cog in the machine, this doesn't bode well for their morale or engagement levels. An employee that feels unappreciated also feels that they're easily replaceable. As a result, their attitude towards the company won't be positive.
Decreased productivity and quality of work
Just like employee appreciation breeds higher productivity, failing to communicate gratitude towards employees through the five languages of appreciation can cause productivity to fall.
As a result, this can harm the company's profitability and growth trajectory.
Higher turnover rates
As previously mentioned, employees that don't feel appreciated by their current employer are more likely to seek a new one. In turn, this means a higher turnover rate for the company. As a result, the company's costs will rise, and its profits will fall.
Some estimates put external hires typically demanding 18-20% higher salaries than existing employees. This is especially true if the company operates in an industry with low employee turnover rates.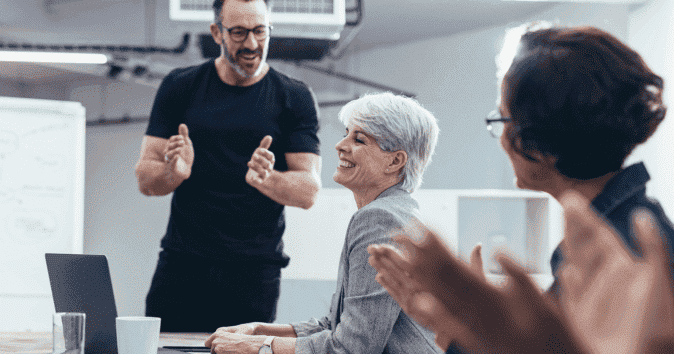 Best practices for implementing languages of appreciation in the workplace
Here are some tips to help you put the 5 languages of appreciation to good use and effectively communicate appreciation within your workplace.
Creating a culture of appreciation
Fostering a culture of appreciation in your company goes a long way in making sure employees feel valued. This culture involves celebrating employees' hard work and achievements. This responsibility belongs to the managers and HR leaders within the organization.
You can express appreciation for your employees by celebrating important career milestones. For example, you can have a party for an employee that's been a member of the organization for five or ten years.
Another way of showing appreciation is to encourage employee recognition. This allows team members to show their appreciation for each other, in addition to the appreciation you express towards them.
Encouraging managers to recognize and utilize languages of appreciation
Another step you can take towards showing employees they're appreciated is to teach their managers how to do so.
You can do so through workshops and HR training programs.
Providing training for employees to understand and utilize languages of appreciation
To encourage more peer-to-peer recognition, you can also extend the HR training initiative to the employees themselves. Doing so will give them a better idea of how to express their gratitude towards each other and build positive workplace relationships.
Setting up systems to regularly show appreciation
If you want to go the extra mile to make your employees feel appreciated, you can invest in a system that makes it easier to do so.
An example of such an initiative is a points system that quantifies the level of appreciation employees receive from their peers.
Workhuman's® Social Recognition allows employees to redeem their points in the form of various products from the world's largest brands.
Discover how Social Recognition® and the rest of the Workhuman Platform can transform your organization's culture into one with gratitude at the center.
FAQs
How do you show appreciation in the workplace?
You can express appreciation through annual retreats, hosting events, and volunteer activities within your organization.
You can also implement rewards programs or issue gift cards catered to your employees' interests and passions.
Of course, you can also use the five languages of appreciation to effectively communicate and tailor your appreciation.
What are the four types of company culture?
The four main types of company culture are:
Clan culture
Adhocracy culture
Market culture
Hierarchy culture
Clan and adhocracy culture place significantly greater emphasis on employee appreciation than market and hierarchy cultures since they're predicated on collaboration, teamwork, and a sense of camaraderie.
Conclusion
To effectively manage your employees, you need to have a clear idea of how to foster a favorable work environment. Such an environment is one where your employees feel genuine appreciation at work. You can create it using the five languages of appreciation.
By using words of affirmation, acts of service, quality time, tangible gifts, and if consented to, appropriate contact like high fives and handshakes, you can make your employees feel valued and boost their morale and performance.
This may be the cultural adjustment your company needs to flourish.