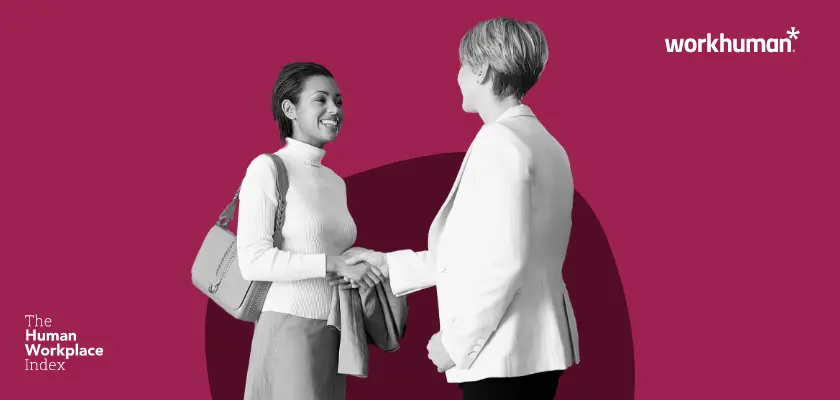 World Gratitude Day, which falls on September 21 each year, offers us the opportunity to reflect on what we're grateful for and show a little extra appreciation to the people we value and cherish. But, according to our September Human Workplace Index (HWI), only one-third of U.S. workers have even heard of World Gratitude Day.
At Workhuman, World Gratitude Day is a big celebration: it's a culmination of all we do to help employees recognize and support one another, but also a chance for us to celebrate the people we love and the colleagues we love working with. We believe that World Gratitude Day should be a special occasion everywhere – however, only 27% of respondents to this month's survey said their companies celebrate it (though 33.7% would gladly sacrifice the office Valentine's Day party to celebrate World Gratitude Day, instead).
Fortunately, most people already express gratitude frequently in the workplace: when asked when they last showed someone gratitude, 41.3% stated they did so in the last 1-5 days, and 35.8% said they did just today. Then, when asked why, 54.3% of workers stated they believe people in their workplace show gratitude simply because it's the right thing to do. But the full picture is much more complex.
In honor of World Gratitude Day, let's examine the sentiment around employee gratitude so we can build a more grateful workplace, together.
The Politics of Gratitude
Gratitude, like any form of feedback at work, carries varying weight. It's tangled up in context and emotion. And it's not just a matter of how much and how frequently gratitude is given, but who is giving it and to whom.
According to this month's HWI, most workers (48.0%) reported they receive the most gratitude from their peers, and even more (59%) reported they show the most gratitude to their peers. This indicates that people are largely comfortable showing their thanks to close colleagues and people under them.
However, recognition and gratitude are critical for growth and upward mobility – top-down gratitude can change the trajectory of people's careers. Employees know this: when asked from whom they would most like to receive gratitude, the highest percentage of respondents (38.0%) said their managers, not their peers. This aligns with what we found in our February HWI survey, in which the highest percentage (42.5%) of respondents said it would be most meaningful to receive recognition from a manager.
According to Workhuman's Manager's Field Guide to Gratitude, managers should strive to give strategic recognition that is ​​fulfilling, authentic, embedded in their company's culture, and equitable. That last point is especially crucial; recognition bias can lock employees out of opportunities and leave a lasting negative impact on their workplace experience. Therefore, leaders must understand how different groups feel about the way they're shown gratitude in the workplace. Having a designated place for recognition – and the people analytics that stem from it – is vital to mitigating biases and creating a space where gratitude is expressed freely.
Age also factors into how people show gratitude at work. The multigenerational workforce has the potential to be a massive boon as employees from all stages of life share their diverse experiences, outlooks, and creativity to drive innovation and success. However, generations have different perceptions about each other's willingness to show gratitude, which can lead to tension.
The stark differences in how generations approach saying "thank you" are surprising. Our survey found that U.S. workers overall believe Gen X, who are around 48-53 years old, is the best at saying "thank you" in the workplace. However, Baby Boomers firmly believe that they're the best (while believing that Gen Z is far and away the worst!).
Interestingly, Gen Z thinks millennials give the best "thank yous," which could be due to the fact that many millennials occupy manager positions, where they oversee Gen Z employees – and, as we found, that manager feedback is deeply important.
Regardless of one's age or background, the best recognition is personal. Demonstrating gratitude is about showing how much you value someone, so be specific about why you're thanking them and how their actions make an impact.
Making Gratitude a Value Through Behavior
Gratitude should be an ingrained workplace value, one that leaders model and everyone emulates. The good news? Over two-thirds of employees agree that they work in an environment where showing gratitude is highly valued. However, just because gratitude is valued, doesn't mean it's happening: 65% of workers believe their organization needs to show more gratitude.
To understand how to better practice gratitude, we need to examine why people give it in the first place.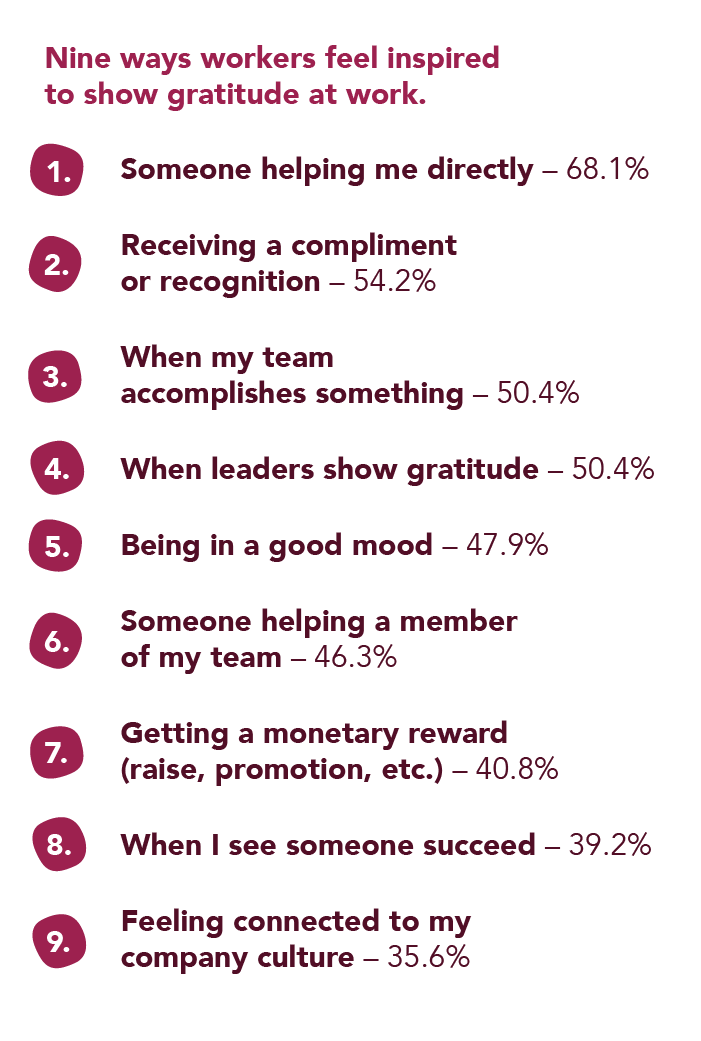 This demonstrates that gratitude is often a reactive response to positive actions. It may sound like a no-brainer, but the trend reinforces the importance of gratitude in fostering healthy culture-building behaviors in the workplace. Of the more than two-thirds of workers who say their company highly values gratitude, 59.6% say it makes them more likely to go the extra mile for their colleagues, and 54.8% say it makes them want to show gratitude to others.
Gratitude is also a major productivity booster: half of the respondents who agreed their company values gratitude said it makes them want to work harder for their careers, and 43.9% said gratitude makes their teams more productive and resilient.
While a true culture of gratitude requires 100% participation, leaders and managers are the ones who must pave the way. When we asked workers what they think encourages people to show gratitude in the workplace, the most popular response was, "Leaders encourage and show gratitude frequently" at 56.3%.
World Gratitude Day provides an opportunity for your company to hit the reset on its gratitude habits and begin building a culture of recognition. Workhuman suggests five ways to celebrate, including kicking off a companywide gratitude month. Other potential initiatives could include encouraging managers to give extra recognition to their reports, or urging employees to reflect on what they're most grateful for in life.
Leaders can also use the day to plan for how they'll show gratitude in the years to come, such as investing in monetary recognition, whether that's through spot bonuses, a formal employee rewards program, or a combination of different award types. A SHRM study shows that 1% of payroll should go towards social recognition. With nearly a third of workers saying that the ongoing uncertainty in the world is making it more difficult for them to express their gratitude, it's imperative that leaders take the time to reinforce recognition as a cultural priority.
Gratitude can take many forms in the workplace, but it all boils down to acknowledging the value that people bring to the organization and letting them hear how appreciated they are. As World Gratitude Day approaches, companies should use the celebration to kickstart or reinforce their commitment to a culture of recognition.
The Future of the Human Workplace Index
As a final note, we want to share that the monthly Human Workplace Index will be moving to a quarterly cadence starting in Q4, with our final survey for the year publishing in October. In this new format, we'll bring you stronger insights with more in-depth analysis, while still keeping a regular pulse on employee sentiment.
We look forward to continuing to bring you key insights into today's biggest workplace issues.