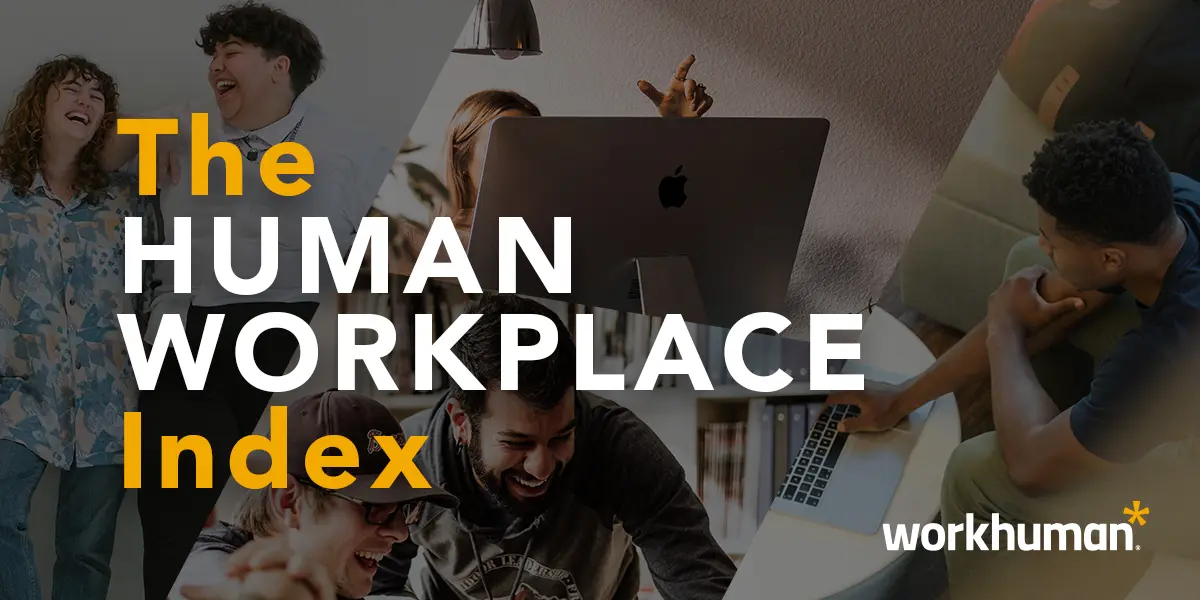 In 2023, it's important to realize what's causing frequent turnover and how to improve employee retention.
There's an old saying, "the only constant in life is change." And while that may be true, we have been dealing with turbulent times over the last two years. Workers across the U.S. have shifted, adapted, and molded to continue providing for themselves and their families, while also attempting to stay safe and healthy.
All of us have experienced this attempt at work-life balance, but that doesn't mean we have the same employee experience. Some may have shifted from in-person to remote work; some may have quit in search of something more; and some have even taken a hiatus from the workforce altogether. In this iteration of the Human Workplace Index (HWI), we analyze how the last two years, and specifically the Great Resignation, have affected the lives, feelings, and needs of 1,000 U.S. workers. In addition, we'll explain some useful employee retention strategies.
How else has the Great Resignation impacted your organization? Find out here.
1. Reflecting Back
The Great Resignation was an occurrence few saw coming, but all felt once it arrived. If you have turned on the news, logged onto LinkedIn, or even looked at your company's internal communication tool anytime in the last 6-8 months, it's almost impossible to not have heard something about workers quitting in droves, finally fed up with organizations that don't treat their employees like humans.
This month's survey found 34% of respondents also chose to voluntarily leave their jobs during the pandemic, in search of something better. And while 16% of these workers quit to start their own company, 28% did so because of their mental health/toxic work culture. An additional 14% left because a flexible work environment wasn't offered.
Keep in mind, however, just because 66% of employees surveyed did not report quitting their jobs does not mean they haven't considered it. In fact, 44% of respondents have considered it, whether by choice or out of necessity. Among the reasons why include:
I have young children attending school from home - 31%
I am unable to do my job and be a caretaker at the same time - 23%
I am taking care of an elderly parent - 17%
I cannot afford childcare - 14%
Other - 14%
So even if you thought your organization was safe from the effects of the Great Resignation, it doesn't take much for current employees to go from considering leaving to actually walking out the door. Knowing this, organizations should focus on what makes employees stay, such as good benefits (28%) and feeling connected to the company/coworkers (27%).
2. The State of the Great Resignation
We know how the Great Resignation has affected the workforce so far, but for how long will it continue? Is it already over? Survey respondents overwhelmingly believe that is not the case, with 65% believing quit levels will continue to rise.
Interestingly enough, of the respondents who actually quit over the past two years, only 11% reported "not making enough money" as the reason. Yet, when respondents were asked why U.S. employees will continue to quit in 2022, only "outside influences such as pandemic, illness, caretaking, etc." was ranked above "they are not being paid enough," 26% and 23%, respectively.
Does money really have such a strong influence on employee retention in 2023? Based on this month's survey, it might. While 26% believe low wages will cause employees to leave their jobs, 23% believe "financial security" will be the reason employees don't leave.
Either or both of these predictions could come to fruition, and we may find out sooner rather than later. When asked if respondents received an end-of-year bonus in 2021, 54% said "yes" and 46% said "no." Those who didn't receive a bonus were asked what their initial thoughts were after finding this out. Some of the responses included (respondents could choose multiple):
I'm not surprised - 50%
I'm not appreciated - 29%
I'm going to quit - 17%
Almost half of employees surveyed did not receive a bonus in 2021 – a year that took a massive toll on workers in every industry. If that wasn't concerning, the gender disparity surely is: 64% of men reported receiving a bonus, while only 44% of women reported the same.
This should not be taken lightly by business leaders. Think of the data this way: 34% of your employees have already willingly quit over the last two years. Add the 44% who have considered leaving, and that's 78% of your workforce. If those considering quitting are some of the same employees who didn't receive a bonus, chances are they are quickly moving from the consideration stage to the decision stage.
While this question was specific to end-of-year bonuses, the message is applicable year-round: a dedicated employee, above all, wants to be appreciated for their work, and the first step is paying and recognizing employees for good work.
3. Return to the Office
Salary isn't the only thing to think about, however. As we continue navigating through the pandemic, it's essential employees feel safe, psychologically and physically. To do that, company culture should reflect the concerns of employees and promote flexibility as things continue to change.
One month into the new year and we have already seen how quickly comfortability levels can shift. Our January HWI found 77% of workers planned to go to the office during the month, yet as the Omicron variant barreled through the U.S., back-to-work plans changed yet again. When asked this month, 48% of workers reported actually returning to the office in January.
Despite the speed at which things change, feelings about the return to the office remain relatively positive, albeit with some concerns. When asked to select how they feel about returning on-site (respondents could choose multiple answers), respondents answered:
Excited to meet/be in person with my coworkers - 40%
Glad because I can focus better - 39%
Happy to be back in an office setting - 39%
Nervous because of Omicron - 32%
Anxious to be with people again - 27%
Concerned because there are too many distractions - 27%
The data above reiterates what the pandemic has already shown us: Each employee has unique wants, needs, and concerns, and the best thing employers can do is to respect that. While we don't know what things will look like next month or six months down the road, we do know what employees want most – appreciation, flexibility, and connection. And that's not likely to change anytime soon.
What's next?
It's time to transform your organization with Workhuman®Platform.
RELATED POSTS
Human Workplace Index – New Year, New Workplace Expectations
Human Workplace Index – Looking Back to Plan Ahead
Human Workplace Index – The Future of Employee Benefits
Human Workplace Index: Getting Real With DE&I
Human Workplace Index: The Power of Thanks
Introducing the Human Workplace Index: The Return-to-Work Rundown