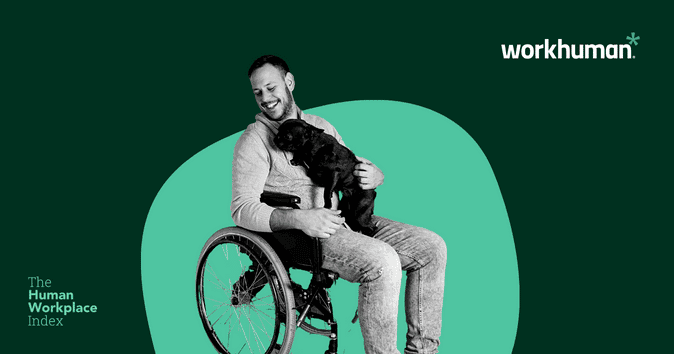 Early in 2021, the labor force began seeing quit rates slowly, and then more surely, start rising. At the time, employers were worried, but hopeful the trend would reverse itself as quickly as it came.
And while we may not be hearing as much about the Great Resignation today, one year later we know that the trend hasn't gone anywhere – and may not be anytime soon.
In fact, the Bureau of Labor Statistics found that quit rates are still near record highs, continuing a streak of more than 4.3 million employees quitting each month since November 2021's peak.
Why are so many employees still quitting their jobs? For employers trying to figure out this question, it likely has something to do with employee engagement and satisfaction – or lack thereof.
October's Human Workplace Index (HWI) is looking at one of the most crucial factors in job satisfaction to help business leaders understand how to better support their employees: Benefits.
What aspects of their current benefits package do they enjoy, and what aspects need to be improved? How can employers provide support outside of the standard employee benefits package? And most importantly, what needs to be done to ensure employees are feeling valued?
1. Tipping the value scale
Employees want to be valued by their employers, but this notion may become more prominent this time of year, as holidays promote gratitude and connecting with others. And the more valued employees are feeling out of the office, the starker the change is when that value is not evident in the workplace.
This month, when we asked respondents how valued they feel at their company, more than one-half of employees reported feeling either not valued at all or somewhat valued (58%). Seeing that number should stop employers in their tracks. If more than half of workers feel like they aren't being valued at work, imagine the productivity organizations could achieve if everyone felt like their effort was valued.
For employees to do their best work, they need to feel their best, and being not valued, or even valued, isn't optimal. Employers should be actively seeking out employee sentiment to determine what needs to change to shift the scales toward feeling very valued, sooner than later.
To do that, we need to better understand which employees are feeling what. For example: when broken out by gender, the number of women who feel either not or somewhat valued is 7% higher than their male counterparts (61% vs 54%).
So, if employers are wondering why their workers feel unvalued, they also need to ask why men are more likely than women to feel very valued. Based on this question, it looks like feeling valued is another way in which implicit bias and discrimination can seep into the workplace and employee experience. Now organizations must work to figure out why that is, and what it will take to change it.
2. The evolution of benefits
How can employers create an environment where their people feel valued for their contributions? Leaders should start by taking a good look at the benefits they are currently offering employees and determine whether the package is built to check a box, or to actually support employees and their needs.
When asked which benefits are most important to employees, 63.1% said financial benefits (bonuses, commission, etc.), followed by mental/emotional benefits (23.8%).
And while there is still a long way to go, many employees are seeing new benefits being offered by their companies – many of which target mental wellbeing. These include: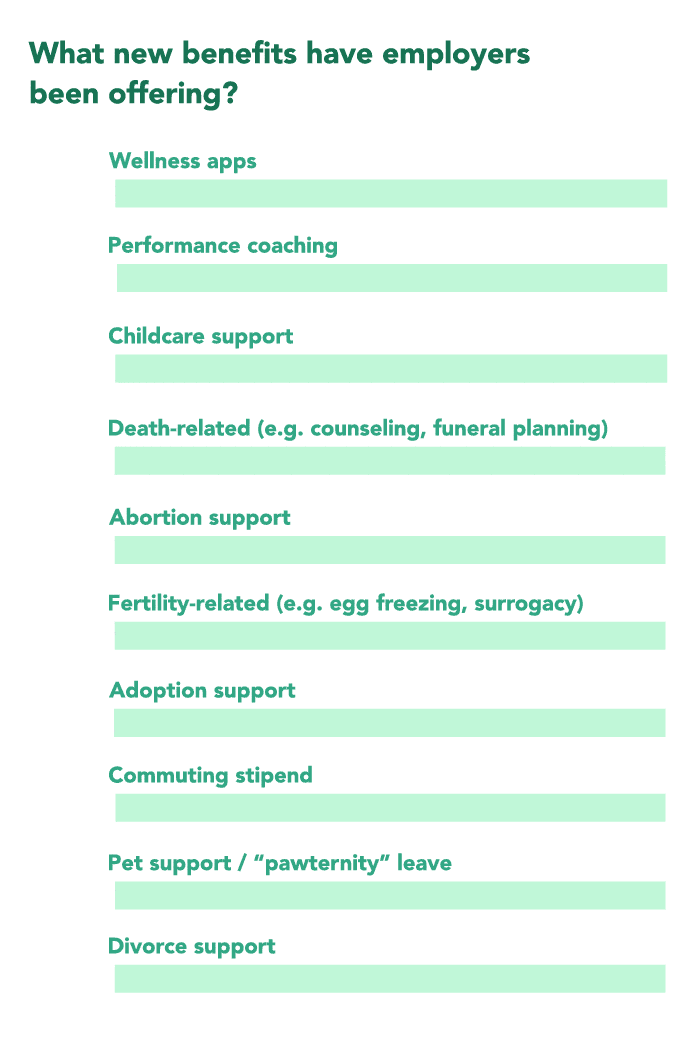 As the world we live and work in continues to change, the benefits and support offered by employers must change too. In fact, 56.1% of those surveyed believe it is an employer's responsibility to offer benefits to support personal life events. Why? The majority say it's because life events impact your professional life (41.4%).
Employers who aren't providing these benefits should reassess their offerings – but adding a new wellness app or commuting stipend aren't the only things workers need, as made clear by the ever-turning wheel of turnover.
Lucky for many employers, 75% of survey respondents say they are happy with the benefits their company offers. Which makes sense, considering 86.3% of all employees surveyed think about the benefits they'll have access to based on the stage of life they are in.
So, if employees are generally satisfied with their benefits, why is turnover still rampant?
When we asked respondents why turnover is still trending up, employees being overworked and pay discrepancies/inequalities took the top of the list, at 22.9% and 22.5%, respectively. The latter becomes even more important when you consider 42.4% of those surveyed report the cost of out-of-pocket expenses (childcare, healthcare, etc.) often exceed their monthly income.
For employers to keep their talent, let alone recruit more, they should be offering them not only a competitive salary that covers the standard of living, but also benefits and flexibility that lend themselves to a culture of appreciation and humanity.
3. Sustaining employee engagement and morale
This month's HWI gave a glimpse into the gaps of the employee experience when it comes to benefits and support; but how do we take those learnings and turn them into action?
Let them tell you.
We asked employees what their organizations can do to make them feel more valued, and the answers made it clear: recognition is a powerful tool for engagement and morale.
For one, 73.4% of employees reported feeling the most valued by their managers when they are recognized for their work. The best way to do that? Nearly one-half of respondents (48.9%) said their preferred way to be recognized at work is with monetary rewards.
Monetary rewards can look very different depending on the business strategy, but based on this month's responses, spot bonuses throughout the year look to be the most desirable for employees (47.5%).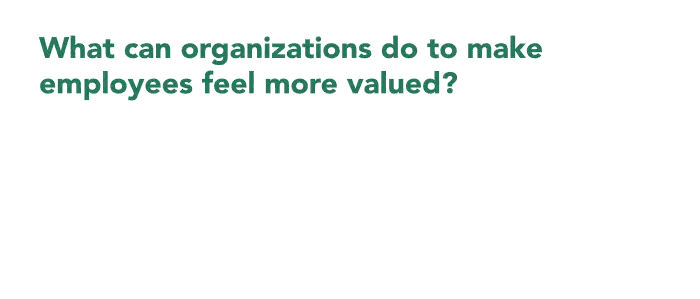 Rather than wait until the end of the year to award bonuses to employees, why not reward them in smaller increments in real-time? That way they know exactly who they impacted, how they did it, and what it meant to the organization's success. And it'll save you money!
Before employees can do their best work, they need to have their basic needs met; from health insurance to PTO, organizations should be looking at what they expect of employees and what employees expect of them and start closing the gap between the two.