The height of the summer is here, and with schools out and kids at home, many parents are facing additional challenges when juggling family obligations with work. Fortunately, the rise of remote and hybrid work has offered leaders an unprecedented level of empathy for working parents, and at many companies, that empathy has transformed into policy. The shift has occurred on a national scale, as well, with laws such as the Pregnant Workers Fairness Act (PWFA) being passed to ensure a more equitable workplace for parents.
However, as this month's Human Workplace Index reveals, there remains much work to be done in the arena of parental benefits. As more companies return to the office and scale back on pandemic-era perks, parents are still struggling to balance the expectations of their jobs with caring for their children. Getting back to "business as usual" shouldn't mean abandoning progress that's made the workplace more amenable to parents.
Let's examine the ways companies can do more for working parents – and why they should center those efforts on a foundation of flexibility and recognition.
Parents are trying to keep up with workplace expectations, but companies need to meet them where they are. 
Companies' expectations around workplace hours, events and travel may not be created with working parents in mind. These standards– which aren't always upfront in a job description– can bar parents from professional opportunities and even prevent them from earning the recognition they deserve. However, our data suggests parents are trying to match the pace, even at the price of added stress.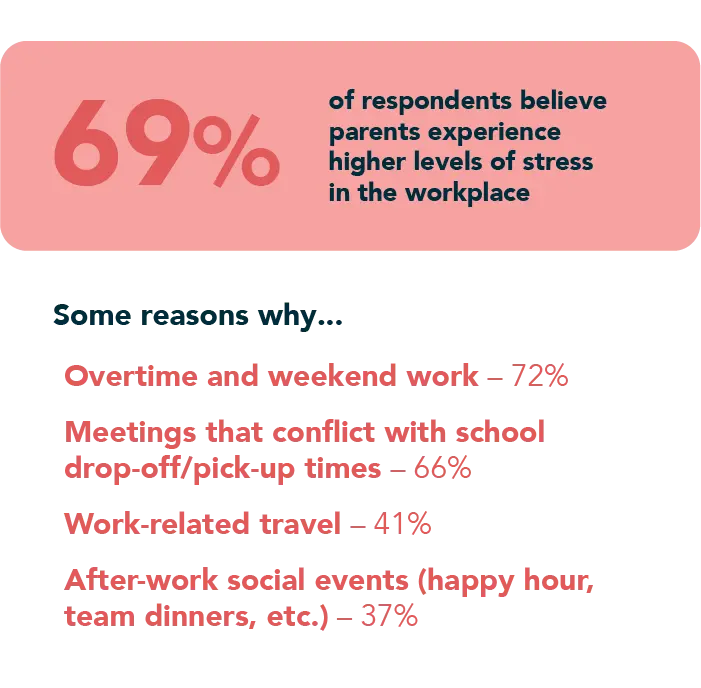 *Of the 68.5% of total respondents who stated they believe parents experience higher levels of stress in the workplace
The common thread here is time: When work encroaches on time reserved for family, it creates strain both at the office and at home, which can leave parents feeling burnt out and spread thin, lowering productivity.
In fact, 74.8% of parents who responded to the survey – a population of 507 out of 1000 respondents – stated they believe that parents experience higher levels of stress in the workplace as opposed to non-parents. However, only 62.2% of non-parents believe that parents experience higher levels of stress, indicating over a 12% disparity in perception around the amount of stress parents experience at work. This disparity could offer insight into why workplace expectations and parents' needs don't always align.
Moreover, 62.1% of all workers believe that parents experience professional setbacks due to a lack of support from their employers – the figure goes up for respondents who are parents, of whom 68.2% believe they experience setbacks. This is where recognition becomes crucially important. Recognition can help demonstrate company and peer support for parents and offset professional setbacks by ensuring they're recognized for the work that they do. When people are adequately recognized for their accomplishments, it helps leaders to identify how and where they can give people new opportunities. It can also be a strong motivating factor for all employees.
Expanding recognition is just one example of how addressing the needs of parents helps everyone. In fact, parental benefits can make or break someone's decision to stay at a job, regardless of whether or not they're a parent: Approximately two-thirds of all workers (66.2%) said these benefits were "very important" to "extremely important" when deciding whether they would stay at a job. When combined with recognition, these benefits help to develop a culture where people are respected and celebrated not only for their achievements at work, but for their whole selves.
Expanding the definition of "parental leave"
Inflexible paid time off (PTO) policies can create inequities between parents and non-parents in the workplace, leading to higher rates of burnout and absenteeism. While specialized PTO for parental needs is not a new concept, expanding it could help keep parents from having to address childcare needs on their own time. Fortunately, 68% of respondents stated their company supports PTO requests related to parental duties, such as taking a child to the doctor or attending a school event, and the response was even higher (72.2%) among parents who were surveyed. But if parents are using up all their PTO for caring for their children, when do they get a break?
Just as companies have built in extra time for mental health and other employee needs, they can do the same for parents. When we asked what more their companies can do to support workers, nearly half of all respondents (46.7%) stated that they can "offer more paid time off." In practice, this could look like specific PTO days for taking care of children when they are sick or otherwise off from school, or allowing for more malleable schedules, with remote and hybrid options to suit their needs.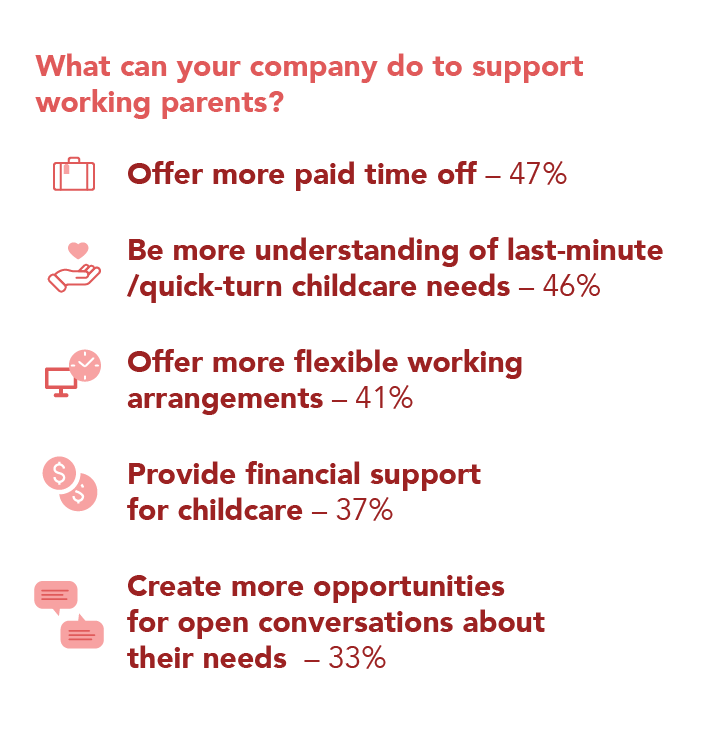 But how does this stack up against baseline parental benefits like maternity leave? According to this month's survey, the percentage of employees with access to paid maternity and paternity leave were also shockingly low, with a significant gap between the number of respondents who said their companies offered paid maternity leave (44.9%) and paid paternity leave (27.6%).
Such a short leave time can not only lead to faster burnout when parents return from leave, but may also feel like inadequate recognition for the extraordinary life milestone of having a child.
Empathy and flexibility are the foundation of a workplace that empowers parents
Fortunately, open communication is paving the way for change in the workplace: A majority of workers surveyed (62.9%) believe that they can have honest communications with their employers about childcare complications. Opening these dialogues will foster a culture of honesty and psychological safety, setting the groundwork for a more equitable, accessible workplace – not only for parents, but for everyone.
Of course, communication around parental needs can't be a one-way street. When employers make space for parents to voice their worries, they need to be ready to provide support, as well. To create an equitable workplace for parents, companies must strive to accommodate (and celebrate!) parents' unique and evolving needs, from their children's birth to graduation and beyond. Employed parents are effectively working multiple jobs, and they deserve adequate recognition for their achievements, both in life and at work. Providing that recognition will reinforce their value, ensuring they feel fully ingrained at the company – and not simply trying to keep up.