Unhappy service workers create unhappy customers. This is not news to those in the hospitality or retail sectors. We see it every day. One sullen encounter can sink a customer's entire experience and kill their loyalty to a brand.
The solution, according to several decades of research, lies in your company culture. Specifically, in creating a positive service climate—through a combination of enablement, training and reward—which will not only result in higher employee engagement but boost business results across the board.
The challenge of creating a culture to support a service brand (and the specific ways strategic recognition can assist you in doing that) is something we unpacked recently in our market brief on the subject: The Value of Strategic Recognition in Hospitality and Travel, which is now available for download.
According to a recent SHRM publication—Driving Customer Satisfaction through HR: Creating & Maintaining a Service Climate—the benefits of a positive service climate include:
• Higher rates of customer retention;
• Lower cost of sales overall – it is easier to sell an existing customer than to attract a new one;
• Fewer errors are made, so there is less need for recovery and rework;
• A decreased need to compete on price (within reason);
• Improved levels of cash flow and decreased variance in cash flow;
• Higher corporate bond ratings making the cost of borrowing money cheaper;
• Increased market value."
The connection between service climate and service quality (from the customer's point of view) is powerful. Below is a chart from SHRM showing the direct correlation between employees' perceptions of their own culture and customer views of the service quality. This is but one of more than 50 studies SHRM found that confirm this strong connection between employee satisfaction and support and customer satisfaction and loyalty.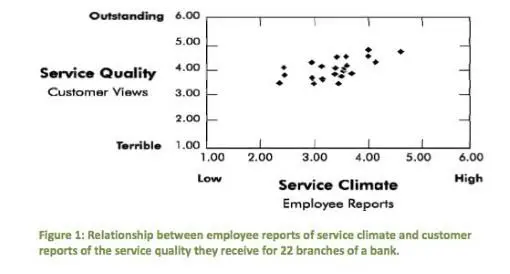 Still, seeing the value in a positive service climate isn't always the same as creating one. To that end, a recent article I ran across in the Cornell Hospitality Quarterly gives us an excellent roadmap as to how we can begin to do that. It is titled "Got Support? The Impact of Supportive Work Practices on the Perceptions, Motivation and Behavior of Customer Contact Employees."
In this article, researchers broke down supportive behavior into three areas:
HR Support – Employee-centered HR practices, such as training programs, performance appraisals, and systems for rewarding good performance. Focused on improving employees' job performance and intent to remain with the organization.
Management Support – The extent to which employees perceive that managers encourage and reinforce the delivery of high-quality customer service. Includes: setting service-related goals, providing recognition and rewards to employees for providing good service, and removing obstacles that prevent employees from effectively serving customers.
Job Support – Includes-work related and technical systems, the extent to which the company provides the tools, equipment, and staff necessary to support employees in the provision of good customer service.
"In general," the researchers said, "service climate refers to employee perceptions regarding the extent to which service quality behaviors are rewarded, supported, and expected by an organization."
The recommendation? "Our results suggest that one way to shape supportive service climate perceptions in employees is through the implementation of employee-centered HR practices that help employees deliver quality service to customers, such as job design, staffing systems, training programs, and compensation plans," says the report. "Ensure that managers set service-related goals, provide recognition and rewards to employees for good service, and remove obstacles that prevent employees from effectively serving customers."
Another important element of creating a service climate, said researchers, is to encourage (non cash) employee rewards, recognition and support from managers directly to employees, because manager support is a key condition for success in this field.
This tracks very closely with our experience and research in this sector, which we summed up in the brief I mentioned: The Value of Recognition in Hospitality and Travel. If you want to read more, check it out here.