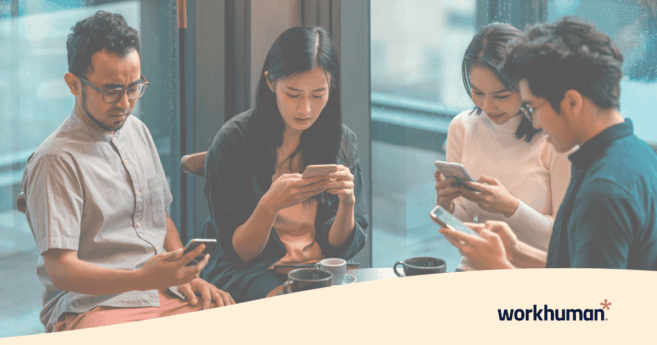 What motivates you to get up in the morning? I mean, besides the cup(s) of pumpkin spice coffee. For me, working at a human-centered organization motivates me to continue coming to work every day with the humans I do it with.
But this isn't the case for everyone, especially not for disengaged employees.
Gallup's 2022 State of the Global Workplace report found that, along with dissatisfaction, workers are experiencing staggering rates of both lack of engagement and unhappiness.
Sixty percent of people reported being emotionally detached at work and 19% identified as being miserable.
In the U.S. alone, 50% of workers reported feeling stressed at their jobs on a daily basis, 41% as being worried, 22% as sad, and 18% angry.
With more and more employees feeling disengaged at work, it makes me appreciate my working situation even more.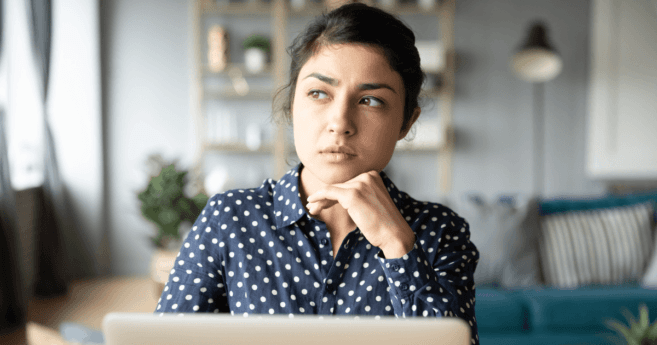 What is employee disengagement?
Dr. Meisha-ann Martin, Director of People Analytics at Workhuman®, explains:
"When we're talking about employee engagement, we're not just talking about satisfaction. We're talking about people personally connecting to their work and being enthusiastic and energetic around it. Engagement is the outcome of the different aspects of the overall employee experience."
As you read on, we take a deep dive into what – and who – is considered a disengaged employee and what your leadership team can do to keep employees engaged throughout your organization.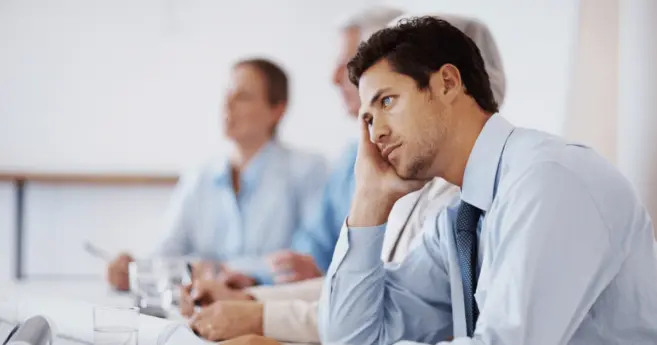 What does employee disengagement look like?
Imagine this: It's like constantly waking up to a low-grade fever. Not feeling your best, but not bad enough to get back in bed. So, you go through the motions of your day, exhausted, counting the minutes until you can call it quits for the day.
Believe it or not, that is the norm for many disengaged employees.
According to Gallup, low employee engagement leads to:
Increased turnover
Decreased productivity and profits
Increased safety incidents
Decreased customer loyalty
As a result, disengaged employees have a difficult time finding passion in their work, potentially jeopardizing their career growth, employee performance, and workplace relationships.
This lack of enthusiasm for workplace activities can even negatively impact other engaged employees, as disengagement can spread quickly through a whole team, and even an entire organization.
You might also like: How to measure employee engagement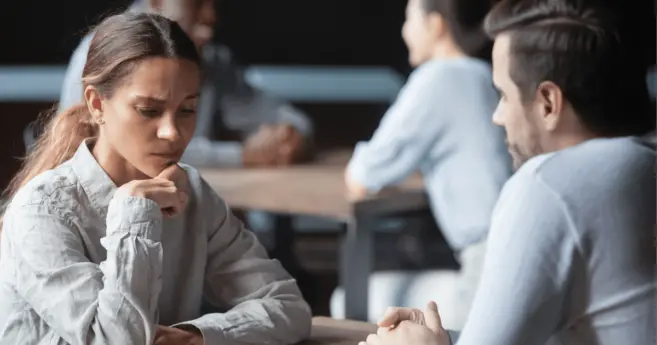 Early signs of a disengaged employee
Being able to identify disengaged employees can help organizations find gaps in their engagement strategy, fill those holes, and improve workplace productivity and morale moving forward.
Symptoms of low engagement may be obvious – frequent absences or tardiness, missing deadlines or making careless mistakes – but more subtle signs are often missed.
Employees may try to brush it off, so stay alert for specific signals that warrant a disengaged employee.
Two of the most prevalent signs an employee is sliding toward disengagement are general negativity and pulling back from the company and co-workers.
Negativity
Whether it's verbal or body language, negative cues not only affect the specific employee, but those around them.
Examples of negativity include:
Speaking poorly of others
Talking back to managers
Acting dismissive about work
When disengaged employees present this negative energy, it can harm peer-to-peer relationships – causing feelings of anger and resentment – making it more difficult to re engage the employee.
Lack of socialness and participation
Organizations have worked to craft innovative ways to keep social activities in existence, even in a hybrid workforce. Certain employees who are feeling disengaged may separate themselves from social or group collaboration. Take notice of engaged employees that once 'accepted' calendar invites to social events, but now opt out.
Disengaged employees will voluntarily disassociate themselves and avoid participation in social gatherings, unless directly asked to. As a leader, you can't force friendships among colleagues, but creating a community through peer-to-peer recognition is a step in the right direction.
Team members who report that their organization has a recognition program — such as periodic excellence awards to innovative or excelling teams — are 3x to 5x as likely to strongly agree that they have a best friend at work.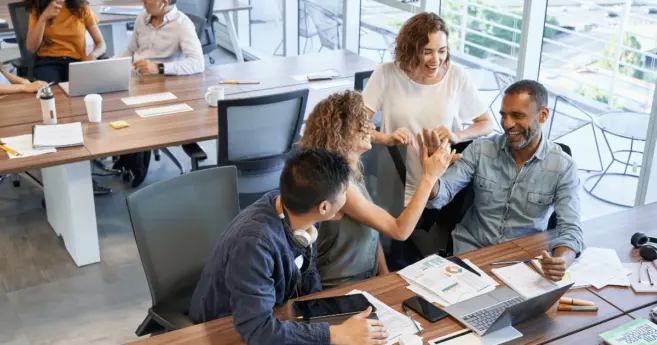 How to better engage your employees
Lack of engagement can be detrimental to company success, which is why creating a culture of belonging is so essential to help employees feel more engaged and connected to the organization.
If an employee feels valued and appreciated by their organization, they are more likely to be engaged. And the data backs this up time and time again.
A study from Gallup and Workhuman®, "Unleashing the Human Element at Work: Transforming Workplaces Through Recognition," shows, with a Social Recognition platform, employees are up to 5x as likely to feel connected to their culture.
When employees feel both recognized and heard, chances are they will want to be engaged in their work and - believe it or not - strengthen relationships within your organization.
Here are four more additional strategies to help improve employee motivation, employee happiness, and employee engagement within your organization:
Conversations
Communicate with your employees, especially those with warning signs of disengagement. Regular check-ins create a perfect one on one opportunity for team leaders to connect with employees and openly discuss solutions to boost engagement levels moving forward.
Fostering a feedback culture allows employees, regardless of their position and role, the ability to provide input about their work and the organization. It's important for managers to be cognizant of how individuals prefer to receive feedback, and adjust their communication in response.
As a leader, be prepared to offer other methods of communication like employee resource groups (ERGs) for disengagement due to personal reasons, but it doesn't stop there.
56.1% of staff believe it is an employer's responsibility to offer benefits to support personal life events, so, it may be time to investigate your organization's benefits as another means of personal support.
With a continuous performance management platform like Workhuman's Conversations®, managers can keep in touch with their people, making disengagement easy to spot in real-time.
Surveys
Organizations often underutilize one of the easiest ways to collect organization wide feedback – employee engagement surveys. Instead of a formal large-scale survey, consider pulse surveys that keep leaders present with the "pulse" of their company, through targeted questions relating to employees' current thoughts and feelings.
Using a survey tool helps identify what issues are causing disengaged employees to feel worried or concerned. Employee feedback is one of the most simple, yet effective, ways for leaders to identify risks and make actionable changes accordingly.
For example, if the survey shows one department is more disengaged than the others, take the time to investigate. There might be something – or someone – causing the problem.
Celebrate
We know the gratification employees get when they receive praise for their hard work but, how about those special moments outside of work?
Life Events® and Community Celebrations® from Workhuman create moments of celebration around the important milestones employees experience - birthdays, weddings, employee retirements, promotions, and more.
Celebrating those achievements in the workplace leads to a 23% increase in employee's mental health, and, now more than ever, organizations need to increase the importance of colleagues feeling appreciated as individual human beings.
Engagement doesn't happen overnight, but with 4 Powerful Ways To Fuel Employee Engagement you can actively engage your employees everyday.
Frequently asked questions
What is an engaged employee?
While it's important to understand what engagement is, it's equally important to understand what it isn't.
Telltale signs of an engaged employee include high levels of motivation, the desire to learn and grow, and connections with coworkers.
How do disengaged employees impact the business?
The lack of productivity from actively disengaged employees can spread to colleagues, possibly leading to higher employee turnover and an increase in cost to replace.
In fact, data from Work Institute's Retention Report notes it can cost up to 33% of a worker's annual salary to replace an employee.
What do disengaged employees need to thrive?
While this will vary on an individual and company level, typically it is open communication from leaders that will create this gateway for change.
If one department feels under appreciated, consider implementing a reward system personalized toward that group of employees, in conjunction with your Social Recognition program.
What's next for employee engagement?
Something as simple as a "thank you" has the power to lift employee engagement to new heights, yet not enough organizations are using it to their advantage.
In fact, a Workhuman survey conducted during the pandemic found that of more than 1,000 responses from U.S. workers, nearly half (48%) had only sometimes, rarely, or never received a "thank you" from their employer and/or colleagues.
If you suspect an engagement problem in your organization, now is the time to tap into the power of recognition. Consider enforcing a program that allows both managers and colleagues to acknowledge the invaluable work the people around them are doing.
This shift to a culture of appreciation will undoubtedly improve employee engagement as well as connection and productivity.
Learn how the Workhuman Platform can transform employee engagement in your organization. 👉Request a demo today!