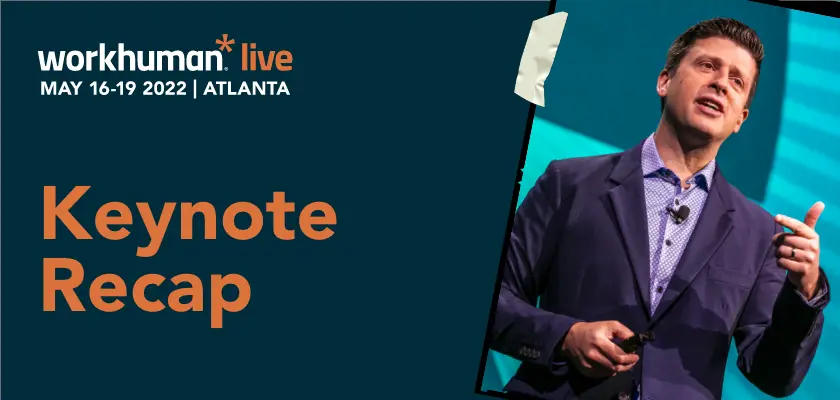 Think back to one of your favorite vacations. What comes to mind? Probably not what you ate at the airport or the length of the taxi ride to your hotel. You remember moments – big and small – because of a concept called "duration neglect."
"When we look back, length washes away. We're left with moments," said Dan Heath, writer, entrepreneur, and influential management thinker, during his Workhuman® Live keynote. And he argued there's a logic to which moments we tend to retain – the peaks and the transition points.
Many companies do an exceptional job of curating these experiences and moments for their customers and employees. The first example he shared was about Magic Castle Hotel in Los Angeles, a 60's-era apartment complex turned generic-looking hotel.
He shared pictures of his uninspiring hotel room and laughably-small balcony overlooking a parking lot. You might be surprised to learn Magic Castle Hotel is ranked number two on Trip Advisor (above the Ritz Carlton), until you hear about things like the popsicle hotline at the pool or the magician in the lobby, not to mention the fact that hotel staff will do your laundry for free.
"This is a parable about experience," said Dan. "We might think that in order to create a world-class experience that every detail has to be perfect." But it doesn't. We just have to focus on building more peak moments for our customers and employees.
Dan shared the four essential elements of peak moments to help get us there:
Elevation – These moments spark joy, delight, and surprise.
Insight – In an instant, we realize something that changes our perceptions.
Pride – These are moments of accomplishment where we are celebrated by people we care about.
Connection – These moments deepen our ties to other people, whether between individuals or among groups.
Groups remember moments of struggle – when they accomplished something bigger than any one person could do alone. Think about the big moments your employees experience over the course of their careers – the day they accept your offer, their first day at the office, their first big promotion. How can you infuse more elevation, insight, pride, and connection into these moments in time? Here Dan shared a key tip: Attend to transitions.
Someone's first day at work is "the biggest single transition in the life of your employees in respect to work. Most organizations treat this as a bureaucratic chore," said Dan. He shared some examples of organizations that really invest in this peak moment so new hires end the day believing the work they do matters and that they belong.
You don't even have to wait until your new hire starts. At one school district in Wisconsin, they hold press conferences to announce teachers and staff joining the team and photos are shared on social media for the community to add their congratulations.
Another key insight Dan shared was that moments are far more persuasive than numbers or logical explanations. He gave an example of a manufacturing company that was having trouble getting employees to enroll in the 401k match program. Rather than send another email about the benefits of compound interest, the CEO invited every employee for an all-hands meeting. He walked in without saying a word, opened a large bag, and dumped a pile of cash onto the conference room table.
"This is the amount of money you left on the table by not maxing out on your 401k. Do you want this cash to be in your pocket or mine?" You can imagine how many more employees enrolled in their 401k after that day. "In the business world we are so often motivated by explanations, but explanations don't break through," said Dan.
Finally, let's not forgot what social psychologist Harry Reis discovered, which is that our relationships are stronger when we perceive that our partners, employers, and favorite brands are responsive to us. There needs to be: Understanding Validation Caring Dan shared this moving video from TD Bank, where they turned their ATMs into "automated thanking machines."
Check it out here (and grab some tissues):
We all want to feel seen and appreciated for who we are and what we do. That's true at home and at work. Dan's stories and insights are a reminder that building more connection, affinity, and loyalty in our workplaces is not only possible, but vital to stand out in today's competitive job landscape.
We are in this, together.
The future of work is upon us, here is what organizations need to know.