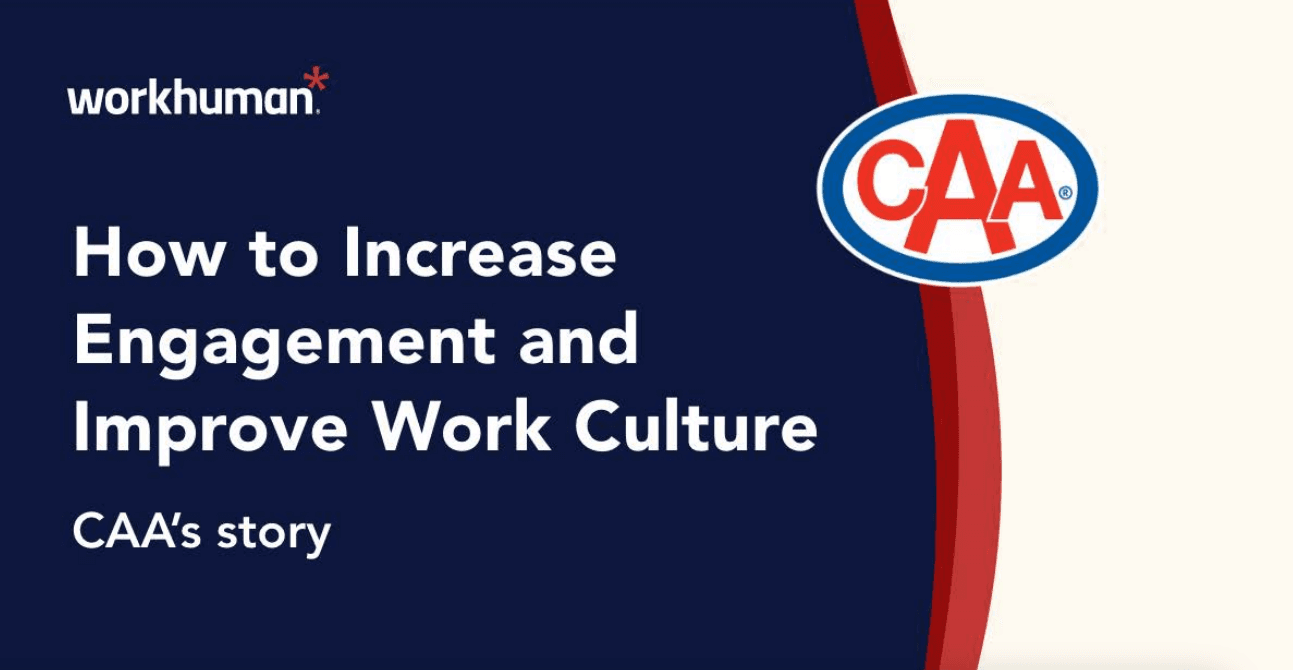 "Our Applause recognition program is not an HR program," noted Mara Notarfonzo, CAA's vice president, total rewards, as she opened up the recent Workhuman® webinar. "It's a program that was developed for our associates and for our leaders to recognize each other. We just house the program."
Joining Mara was her CAA associate, Tony Tsai, vice president, corporate communications, and Workhuman's David Stott, principal workplace consultant. Together, they explored how CAA's comprehensive, peer-to-peer, values-based employee recognition program has helped the organization drive organizational culture and impact important business outcomes such as retention, change management, and employee wellness.
Read the full CAA case study >
With that as a backdrop, let's relive some of the key takeaways that were shared during this engaging and enlightening session:
1. Spending less, getting more – CAA saw a 100% adoption of the program across all divisions in the first year, and now has more than 24,000 recognition moments happening annually. But what really stands out is their 15x increase in recognition moments at a 37% lower cost. "We have this fantastic program that – from an ROI perspective – continues to deliver year over year over year," observed Mara.
2. Recognition delivers outsized business benefits – Dave shared some findings from the latest Workhuman iQ survey report: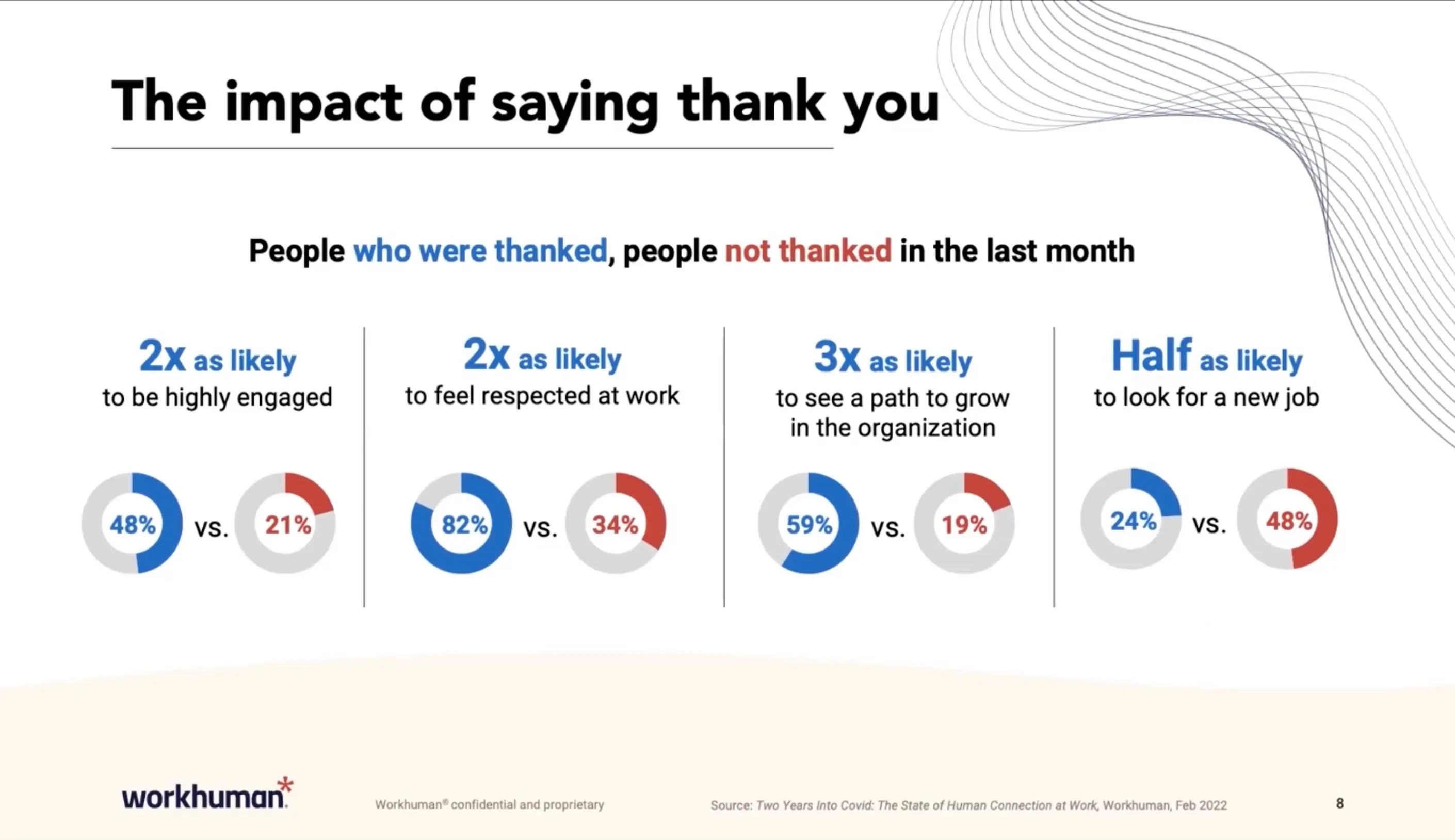 3. Employees who have both given and received recognition are least likely to leave the organization – Mara noted that among those who have both given and received recognition, the turnover rate was just 6%. For those who had only received recognition, the number is 12.1%. And for those who had neither given nor received recognition, the number jumps to a whopping 52%. "So you can see how valuable and what an impactful program this is when you can tie it all back to retention," she pointed out.
4. Recognition helps facilitate change management – With its rapid growth in recent years – much of it through mergers and acquisitions – CAA has faced the challenges of change management. To meet those challenges, the organization has turned to recognition. "With the recognition program, we were able to get people on board." noted Tony. "We show them that they are recognized and valued as they come along on this journey with us, and we use specific activities and campaigns to influence changes in behavior."
5. Recognition drives a strong sense of connection – Again drawing on data from the Workhuman iQ survey, Dave shared a graph the demonstrates the power of recognition. "What we see in the data is that when recognition is flowing – whether it's coming from a manager or a peer – employees tell a story of feeling more connected," he noted.
6. Recognition impacts employee wellness – When the pandemic hit, CAA saw a jump in the adoption rate of their wellness app from around 20% to 40%. But after the lockdown was eased, they started to see a decline. "So we decided to link the wellness program to our recognition program," recalled Mara. "We started attaching points and utilizing our Applause program for anyone who completed a badge. And in January, the adoption rose to 50%. If I could have every associate that's using this tool achieve a gold-level badge, I'm happy to give out points."
7. Recognition increases connection and reduces burnout – Data from Workhuman iQ illustrates that those who receive recognition feel a greater sense of connection and lower feelings of burnout.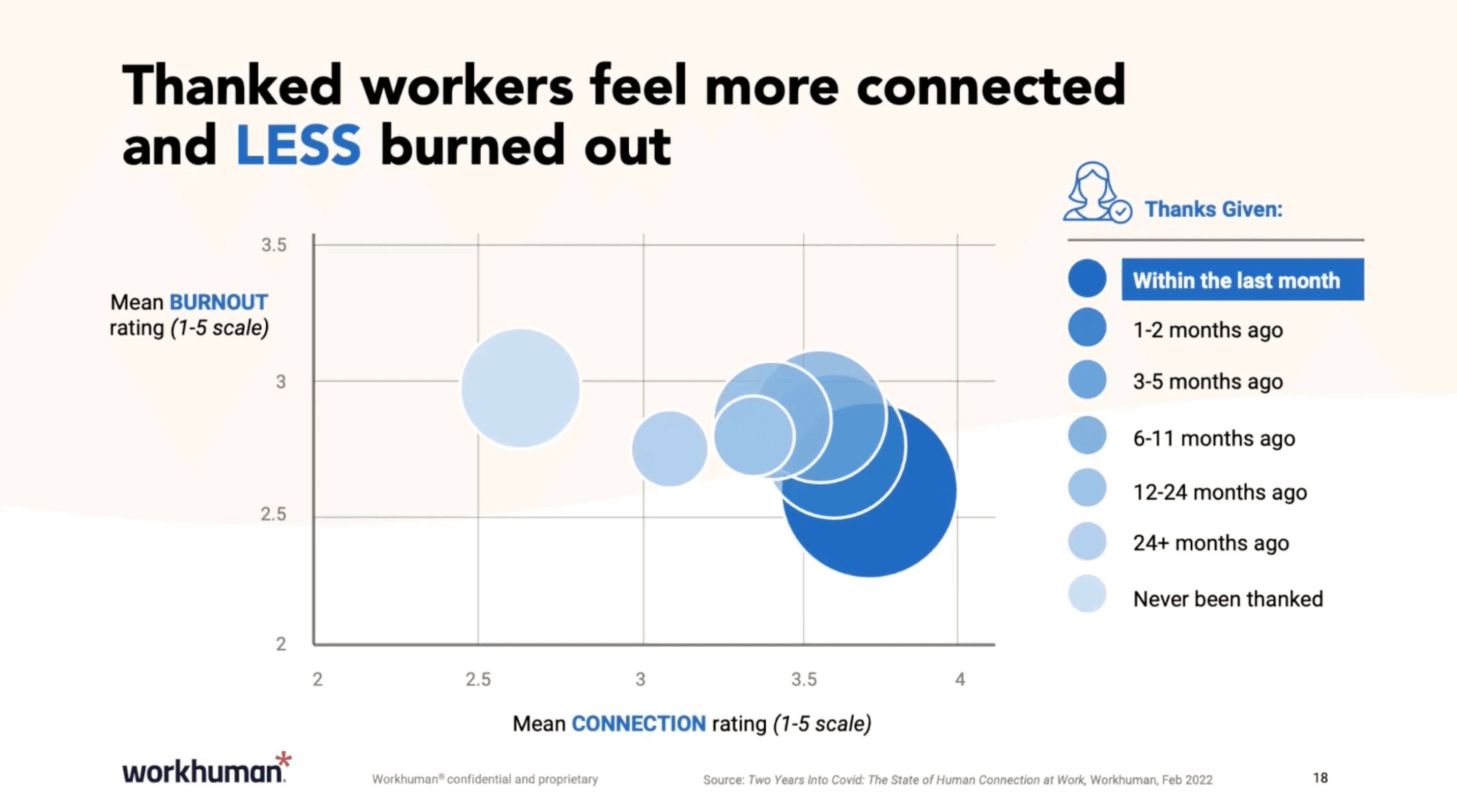 8. Recognition brings your corporate values to life – "Recognition is the perfect example of people living the values of the organization because our recognition categories are based on our values," noted Tony. "When you tie recognition into behaviors – and you reward those behaviors – you're actually seeing values being lived and demonstrated, rather than just words on a wall."
The program ended with a slide of some of the overarching themes covered during the presentation: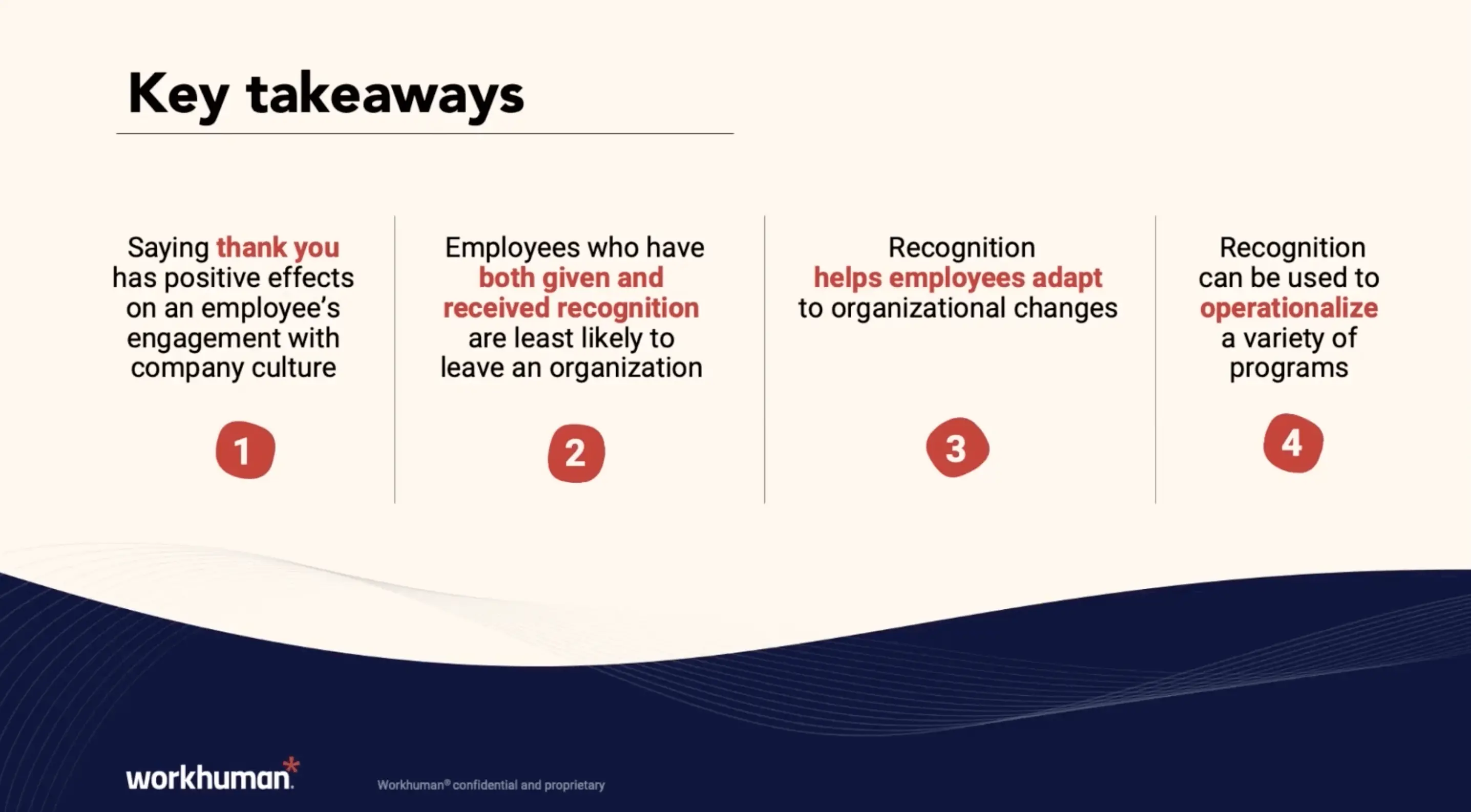 Next steps
Get the full story on how recognition has helped CAA drive organizational culture and impact important business outcomes such as retention, change management, and employee wellness.
Related posts: