Over the past decade, dramatic changes within hospitals have exacerbated a nursing shortage in the United States. "Hospitals are becoming intensive care units. Nursing homes are becoming hospitals. And homes are becoming nursing homes. Everyone is either critically ill or at home," says LeAnn Thieman, founder of SelfCare for HealthCare™ and author of the "Chicken Soup for Nurse's Soul" series. Yet the proliferation of electronic medical records chains nurses to computers, rather than caring for patients, an average of 33% of each shift.
"Nurses give 110%, but it's never enough. That's a huge reason nurses leave the profession," says Thieman.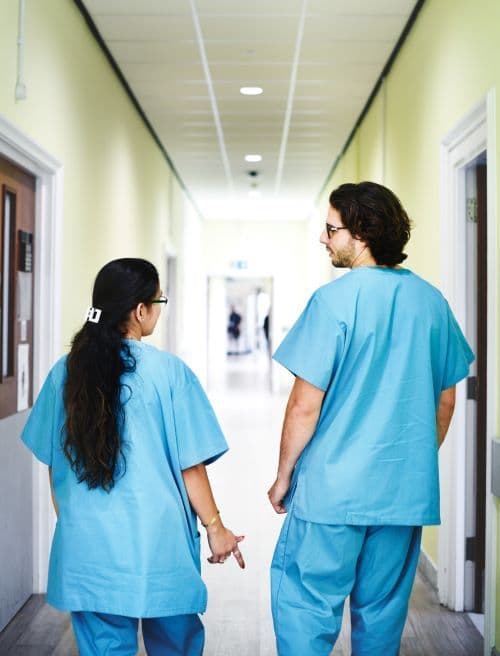 Even as the registered nurse (RN) workforce is projected to increase by 439,300 (16%) between 2014 and 2024, 649,100 replacement nurses will be needed over that time, bringing the total number of job openings for RNs to 1.09 million by 2024, according to the U.S. Bureau of Labor Statistics.
The right environment can attract and retain nurses. "Nurses want to work where they feel they can contribute, where they're seen as an individual, and where the hospital cares for the caregiver – mind, body, and spirit," says Martie Moore, chief nursing officer (CNO) at Medline industries and a 20-year CNO for several hospitals awarded Magnet status for satisfying nursing quality standards by the American Nurses' Credentialing Center.
Forward-thinking hospitals are beginning to transform their culture to one that sets nurses up to do their best work by fostering relationships with them and communicating how they are making a difference. Among the strategies hospitals are following to achieve these objectives are recognition, empathy, regular communication, and recognizing employees' life beyond work.
You might also like:
Recognition
Recognition is the number one thing managers can give employees to inspire them and improve retention. That's certainly been the experience for Earl Dalton, CNO for Health Carousel, a nurse staffing firm that serves hospitals across the U.S. "We've demonstrated that the nurses we recognize stay longer. And they tell their friends about their recognition, so we get referrals as well."
Hospitals use many tactics to recognize nurses, the most effective of which is through a centralized social recognition program where each award is tied to a specific company value and peers can add their congratulations. For example, Baystate Health's social recognition program – Baystate Celebrates! – has helped drive performance and connections across teams.
Whenever you give recognition, the key is to be specific and timely. "It isn't meaningful to give someone a card that says, 'Thanks for the great work.' People don't know what that means," says Dalton. "It's better to say, 'I saw how you made sure that patient got their pills on time and here's a small thank you.' "
According to Moore, "Often nurses do extraordinary things, yet they see it as just a day's work. Leaders need to notice and highlight what they see."   
Empathy
As with any other personal relationship, strengthening connections with nurses requires leaders to put themselves in their nurses' shoes. While most nursing leaders are naturally empathetic, leaders looking to increase retention must channel their empathy by partnering with nurses rather than judging them.
"Nurses care about patients – and take it deeply to heart when something goes wrong," explains Moore. "If you ask any nurse about the first time they made a medication error, they can recall all the particulars, whether the error occurred yesterday or 35 years ago."
"Yet hospital systems and processes can inadvertently set nurses up for failure," Moore continues. "For example, the bar code on the medication might not have been read properly. A leader may be inclined to say the nurse made an error even though the nurse thought she saw the correct medication. Leaders can make nurses feel safe by setting aside their biases and working with nurses to eliminate the point of failure in the system for next time. When you create an environment where nurses aren't punished when they stumble, you give them the opportunity to learn and grow. That's a powerful environment that people love working in."
Communication
Fostering good communication enables nursing leaders to demonstrate empathy and build trust.
Dalton recommends institutionalizing a regular cadence for top-down and bottom-up communication. In managing large teams of nurses, Dalton expects that, in addition to performing annual performance reviews, managers have at least monthly one-on-ones with employees. Not only can leaders check in with nurses and provide timely feedback, nurses can ask questions about any issue, from how to deal with difficult patients to how to use ribbon strips.
At quarterly town hall meetings for all nurses, leaders should ask thought-provoking questions to get feedback on what works well, what people don't understand, and what they'd like to improve.
During these meetings, Dalton uses proven mechanisms like "start, stop, continue," where meeting leaders write down suggestions for things participants want to start, stop, or continue. "These tactics have been scientifically proven to boost employee satisfaction," says Dalton.  
Communication can also be as simple as the leader sitting down with a nurse for a few minutes. Says Thieman, "I suggest looking them in the eye and having an honest dialog in a very intentional way. The point is not to evaluate, but to demonstrate care and communication."
"Communication strategies improve retention by creating an infrastructure where nurses feel like they're connected and informed, have influence on their work environment, and can thereby make a difference for patients," adds Moore.
Life Beyond Work
Finally, organizations that are great to work for create a work culture that cares about the whole employee. "Outstanding leaders keep files on who has a son graduating from high school, whose daughter was deployed, who's planning a wedding, whose mother is gravely ill. When a leader takes the time to remember one or two personal things about staff members, it gives the nurse a real sense of intentional care," says Thieman.
Such personal touches forge extremely meaningful connections. Says Moore, "Once, after an employee introduced me to her grandmother, who was the most important person in her life, I wrote the grandmother a note telling her how superbly her granddaughter guided patients and family members through difficult healthcare crises. I was blown away when I learned that that note was read at the grandmother's celebration of life. It was among the woman's most cherished possessions."
Recognition, empathy, communication, and recognizing nurses' life beyond work are all these strategies that improve retention by helping employees gain meaning from their work, provide the best possible patient care, and understand that they're making a difference. As Moore notes, "You want to create an environment where leaders remove the barriers that prevent nurses from upholding the collective vision, where people love what they're doing, and where they know they can bring things forward. Nurses want to be in a place where they feel they can contribute to a collective whole."