The Workhuman Book Club was created to inspire you with thought leadership from our speakers all year long, help you connect with other people who love to read, and provide exclusive opportunities to ask authors questions about their books and subject-matter expertise.
5-minute read
More than $46 billion a year is spent on leadership training, but a recent Gallup survey showed that 82% of employees find their leaders uninspiring. Why the gap? Most leadership development focuses on outward skills like strategy, people management, and finance. Instead, new research shows that leadership should start inward with the mind.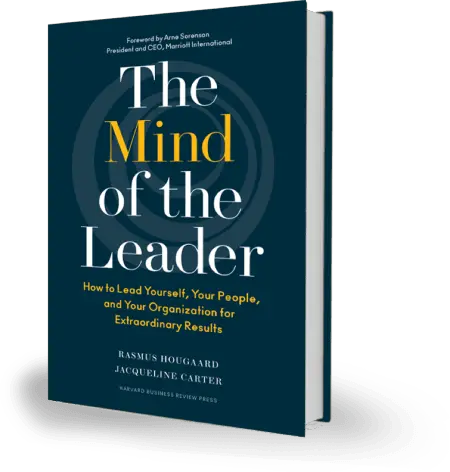 That's the premise and the lesson of the latest book from repeat (and very popular) Workhuman Live speakers Rasmus Hougaard, founder and managing director of Potential Project, and Jacqueline Carter, international partner and North American director for Potential Project. In "The Mind of the Leader: How to Lead Yourself, Your People, and Your Organization for Extraordinary Results," Rasmus and Jacqueline lay out the path for "MSC leadership" – the skills necessary for mindful, selfless, and compassionate leadership and the benefits to the individual leader, to the people they lead, and to the organization overall. As they write in the book, this matters because, "the mind creates our behavior. Our behavior shapes the people we lead. And the people we lead create the cultures of our organization and thereby determine its performance."
Based on extensive direct research on more than 30,000 leaders from thousands of companies in more than a hundred countries, plus third-party industry research and direct anecdotes from leaders themselves, this book delivers what Arne Sorenson, president and CEO of Marriott International, promises in the forward – a path for "leaders to be humans first" as they model how to "act, interact with, and engage with the people they lead in a way that makes people feel seen, heard, and valued."
The book steps the reader through why each element of MSC leadership matters:
Mindfulness – paying attention, in the present moment, with a clear and focused mind. Training the brain for mindfulness shifts our thoughts from our limbic system (lizard brain) to the pre-frontal cortex, where we can pause before we act, gain more focus to complete what is important vs. what is urgent, foster trust by truly being present in the moment with people, and overcome our unconscious bias to see people as they are – not as we are.  
Selflessness – getting out of our own way and the way of others. Training the brain for humility and service helps us become more "other oriented" and overcome the ego because "fear is a big barrier to bringing selflessness into leadership. The fear of not being recognized. The fear of not being acknowledged. The fear of not being successful." That's what makes recognition one of the most powerful tools for overcoming the ego, but it cannot be a scarce resource. Recognition must never be perceived as a competition for a rare acknowledgment, but a gift of appreciation, frequently given. Indeed, it is the act of giving that is most powerful. As we see in analysis of our own customers' social recognition programs, givers of recognition have higher productivity and lower turnover the more they give. And it is the high performers that tend to give more recognition because they know they need the support of others to achieve success.
At an organizational level, Rasmus and Jacqueline point out:
A selfless culture is rich in gratitude. Gratitude is the natural response to understanding how interconnected we all are, how much we rely on other's skills and contributions for our own success … A selfless culture makes a point of identifying and showing gratitude to all those people who make the invisible contributions to the shared success.
Compassion – assuming positive intent to understand others' perspectives and actively support them. Training the brain for compassion requires self-compassion, a goal to be kind, and finding your purpose and bringing others along with you. An important part of compassion for others is being willing to offer feedback delivered with the right intent – to be helpful and constructive. This can require us to flip a switch in our own brains because, as Rasmus and Jacqueline tell us, hearing the phrase, "I would like to give you some feedback," activates the same mental pain response as someone preparing to strike us with a stick. Because we don't want to inflict pain on others, Rasmus and Jacqueline explain we must learn to think of giving feedback based on the premise "that we all have an intrinsic desire to have meaning and purpose in our life and that work, for many of us, is a big part of life, it makes sense that we would all want guidance and support on how we can add more value."
But how do you accomplish this? The book also offers guided practices for training the brain, and access to the Mind of the Leader app in appendices. Each chapter concludes with reflection questions and guided mindfulness practices.
Discussion questions
Join us over in the Facebook group all month long to chat with your peers and answer these book club discussion questions, pulled from questions provided by Rasmus and Jacqueline in the book:
What do you want to bring to your people and your organization? How can you bring more benefit?
What can you do differently as a leader to help your people be happier and more engaged at work? What is one thing you can do to support the development and growth of your people?
How does your ego get in the way of your leadership? What's one concrete step you can take to overcome the limitations of your ego?
What biases – conscious or unconscious – might you have about people you work with? Pick one that you are going to make a conscious effort to overcome.
What's the level of trust in your work environment, and specifically, people's trust in you? What is one thing you can commit to that will enhance trust and create more psychological safety?
(Jacqueline Carter will host a Facebook Live event with the Workhuman Book Club on Thursday, May 30, at 1 p.m. RSVP here and post your questions for her: https://www.facebook.com/events/666573130431118/.)